Prep Baseball: Kingman Academy's Hecker throws a perfect game

Originally Published: April 12, 2018 7:29 p.m.
KINGMAN – Bradley Hecker can now say he's among an elite group of baseball players after the Kingman Academy High School pitcher threw a perfect game Thursday at Southside Park. Hecker struck out seven and the No. 12 ranked Tigers provided plenty of run support in a 10-0 shutout of Mohave Accelerated in five innings due to the run rule.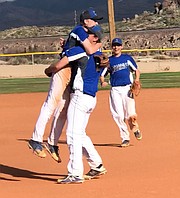 "After I got the final strikeout, I gave a fist pump and then first baseman Kannon Butler charged over," Hecker said. "That kind of set off the rest of the team – they were pretty excited."
It was Hecker's first career perfect game and it couldn't have come at a more perfect time as Academy enters the home stretch of the season. Only three regular season games remain for the Tigers (11-5, 7-0 2A West Region) and Hecker knows how important this is for the team's final push.
"We're in the home stretch and we're not trying to take the foot off the gas," Hecker said. "We want to keep winning games. We have a couple of big games coming up against Parker. We want to finish strong, finish with a good region record and get into the playoffs with a decent seed."
For now, Hecker can bask in the glory of his perfect outing where he already had four strikeouts entering the bottom of the second frame. That's when Academy's offense found its bats to take some pressure off Hecker with a 5-0 advantage after two innings.
"It's obviously a lot easier to pitch when you have others behind you," Hecker said. "Not just the run support, but the defense behind you is big. Ryan Hurley with his pitch calling behind the plate was big."
The Tigers tallied their other five runs in the bottom of the third and that was all Hecker would need.
The senior didn't have any strikeouts in the fourth, but ended the game with two straight punch outs to clinch the perfect game.
"I tried to keep my composure and continue doing what I was doing in the first inning in the fifth," Hecker said. "Not try to change anything – just keep throwing strikes and keep the hitters off balance."
Hecker was even dominant at the plate, finishing with a team-high three RBIs and two hits, including a double. Hurley led the team with three hits – including a homer – and two RBIs, while Donny Tatham and Peter High each had two hits and two RBIs.
Academy is back in action on the road at 3:45 p.m. Tuesday in a rematch with No. 39 ranked MALC (4-10, 1-6).
More like this story
SUBMIT FEEDBACK
Click Below to: