Kingman and the Lone Eagle: When Charles Lindbergh came to visit

Originally Published: April 13, 2018 6 a.m.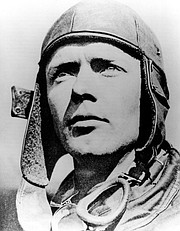 The year is 1927. It's a misty morning in late May and an unassuming mail pilot was about to make history.
With a look at the weather maps, a quick scan of the sky, and a single "Let's go," he climbed into his monoplane, "The Spirit of St. Louis," at 5:52 a.m. Friday, May 20, cleared the ground and headed toward Paris. He passed over Newfoundland and started toward the open Atlantic Ocean at 7:15 p.m. that day. His exact whereabouts were contradictory until 10:21 Saturday evening, when his plane dropped onto Le Bourget field near Paris to a howling crowd.
The pilot climbed from his cockpit and announced: "I am Charles Lindbergh."
Lindbergh was the first man to fly the Atlantic Ocean solo. It was in that moment that one midwestern, 25-year-old pilot became a hero.
Lindbergh grew up on a 118-acre farm along the Mississippi River near Little Falls, Minnesota. Lindbergh learned how to drive a car in 1912, a Model T Ford Tourabout his mother named Maria.
"By 1914, I was driving most of the time (but) when my father drove I usually rode the running board," Lindbergh wrote in "A Reminiscent Letter." "I could pick leaves off branches as we passed … scoop up a stone from the road. I liked the wind on my face and through my hair."
Lindbergh self-described his childhood as a "Huck Finn boyhood by the river." The Lindbergh farm had no electricity or telephone. Kerosene lamps lit the house, while kerosene lanterns lit the barn and "gave a soft and lovely light," which was enough for anything they needed.
In the fall of 1920, Lindy rode off on his Excelsior motorcycle to enter the University of Wisconsin at Madison. In the spring of 1923, he bought his "Jenny" airplane in Georgia, barnstormed to Texas and then headed north to Little Falls, landing on the west 40 of the farm.
"I felt nostalgia then if I ever felt it in my life," Lindbergh wrote, "for I knew the farming days I loved so much were over. I had made my choice. I loved still more to fly."
This love of flying brought Lindbergh to Kingman.
Fresh from his historic flight to Paris and considered the greatest hero this country had yet seen, Lindbergh and others organized the Transcontinental Air Transport Inc. This company was going to offer 24-hour service between New York City and Los Angeles.
His first flight that brought him through Kingman had him landing here June 1, 1928. He was working on inspections for refueling stations along the proposed transcontinental airway. In October 1928, it was announced that Kingman would be on the TAT route.
"Kingman will be the most important station on the west coast," said Major Thomas Lamphier.
In January of 1929, both Lindbergh and Lamphier came to inspect the airport, and work on the TAT airfield began on March 10.
Port Kingman was constructed on 310-acres near the northeastern frontier of the city at the time. Air service started May 17 with two flights a day. Then on June 25, a Port Kingman dedication was held, making it the first dedicated airport in Northern Arizona.
The "City of Los Angeles" was the first TAT air service plane at the port on July 8, 1929.
The landing was bouncy on a freshly oiled and compacted runway in the area of Bank Street, Beverly and Airway avenues, and Interstate 40, according to Southwest Aviation Report. The noisy "tin goose" lumbered up to the end of the concourse, the engines stopped, and a minute later the plane's oval door opened. Standing in the opening, grinning and waving to a crowd of about 1,000 applauding people, was Lindbergh.
Lindbergh was greeted by Kingman Chamber of Commerce President Willis Black. Lindy and his wife, Anne Morrow Lindbergh, were there for the inaugural flight of the coast-to-coast air service.
Very soon, these landings became a daily occurrence. Several greats such as aviatrix Amelia Earhart, actors Douglas Fairbanks and Clark Gable and actresses Mary Pickford and Carole Lombard could be seen resting while planes were refueled.
Whenever the Lindberghs would visit, which was often throughout the 20-year lifespan of the TAT air services, they would drive into town and stay at the Beale Hotel.
On November 20, 1976, a dedication to the old Port Kingman was held. A memorial commemorating Lindbergh for choosing Kingman was established at that time.
"Lindbergh has been described as a 'mechanical man,' or as a 'product of the machine age,' and therefore devoid of human passions or frailties … not true!" wrote Gordon Codding of the famous aviator. "He was to be 'captain of his own ship' in all ways, as all pilots are 'master of my own fate,' or as our Constitution says it, 'free and independent.'"
Codding says the memorial to Lindbergh, therefore, is more of a monument to the man's ideals and philosophy, to the way of life available in his time and place, rather than to some created glory or pompous position.
There is nothing left of the airport which came to life due to Lindbergh's vision and planning. The only thing of the old "Port Kingman" is a structure that was once the terminal building, and the residence of former State Senator Robert Morrow.
It's been reported that from the air, a faint outline of one of the runways can be seen on the ground, and one or two old runway light stands can be found riddled with bullet holes.
More like this story
SUBMIT FEEDBACK
Click Below to:
This Week's Circulars
To view money-saving ads
For as little as $3.49*