Stockton Hill Dollar General held up, Kingman Police seek public's help
Originally Published: April 13, 2018 4:04 p.m.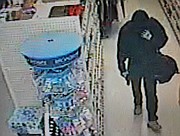 KINGMAN – The Dollar General in the 4400 block of Stockton Hill Road was robbed Thursday evening by two men, and Kingman Police Department is seeking the public's help in identifying the suspects.
The store was robbed at about 8:40 p.m., and KPD responded to scene at 8:45. The suspects threatened two female employees, demanded money from the timed safe, forced them to the back of the store, and bound each of the victims' hands. The suspects left out the front door of the business with an undisclosed amount of cash, beer, cigarettes, and other store items in a duffle bag.
The two female employees could not tell KPD officers which direction the suspects went or in what type of vehicle. The victims were not injured, and the store was empty of customers.
The suspects wore gloves and were covered head-to-toe, including their faces, and entered the store with firearms.
One suspect is identified as a white male in his 40s, about 6-feet tall and weighs about 180 pounds. He had a brown pony tail, wore a black hooded jacket, gray cargo pants, brown or gray suede-material work boots, a tan "boonie style" hat, and wore gray nylon material over his face.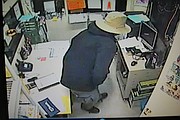 The other suspect is a white male who is younger, but there is not an age approximation. He stood from 5-7 to 5-10, weighs about 150 pounds, wore a black thick jacket, blue jeans, brown or tan suede-material work boots, a ball cap, and wore black material over his face.
A reward of up to $750 is being offered for information leading to the arrest and apprehension of the persons responsible. Anyone with information is asked to contact Kingman Police Department at 928-753-2191, report anonymously to Mohave Silent Witness at 928-753-1234, or report tips online at www.kingmanpolice.com and clicking on "Give a Tip."
Information provided by Kingman Police Department
Related Stories
More like this story
SUBMIT FEEDBACK
Click Below to:
This Week's Circulars
To view money-saving ads
For as little as $3.49*