Kingman High grad McCans reflects on her college career

Originally Published: April 15, 2018 5:59 a.m.
KINGMAN – Cortney McCans has a number of great memories during her time playing for the University of Sioux Falls women's tennis team, but the Kingman High School graduate hasn't forgotten about where she started the journey.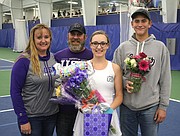 "It seems like such a long time ago that I was playing for KHS," McCans said. "My time playing there really set me up for college. The opportunities that I received allowed me to continue my education and continue playing tennis. The times I went to state in Phoenix allowed for scouts to recruit."
McCans recently claimed her 19th career win and hopes to add to that number when the Lady Cougars travel to Minnesota Saturday for the Northern Sun Intercollegiate Conference Championship.
That will be the final opportunity for McCans to end her career on a high note and she knows it will be very emotional.
"At that point it will really sink in that I am done with competitive team tennis forever," McCans said. "I still plan on playing out of pure love for the sport and I am lucky to be able to continue playing tennis unlike other sports."
As far as post-college plans, McCans is still waiting to hear whether she is accepted into graduate school for occupational therapy.
But right now she has less than a week to prepare for the NSIC Tournament, where she helped USF reach the semifinals in 2015-16. While that was a great year, she didn't hesitate to praise this season's squad.
"My team is so great – this is one of our best seasons," McCans said. "We are hoping to do better than our previous best which I had the opportunity to be a part of in the 2014-2015 season. Most of our losses this season came down to just a few matches that were close. … Our conference is very tough competition and everyone is so close that we have a really good chance to do well."
On a side note, it's a miracle in itself that McCans is still playing tennis after a ball ricocheted off the frame of her racket and hit her in the eye during October of her junior year.
McCans had to take eight weeks off, but she still played in the regular spring season and has since made a full recovery.
"I have had to not only get used to wearing glasses, but also get used to playing in them," McCans said. "Now I don't even notice a difference, but I think I compensate a bit by just turning slightly farther when returning a backhand. Luckily nothing major had to change regarding my tennis game."
That isn't the only thing she is thankful for though, as she knows she wouldn't be where she is today without a tremendous amount of support.
"Senior Night was one of the best nights of my tennis career," McCans said. "My coaches and teammates had such wonderful things to say about me – I felt very flattered. I also am so lucky to have such supportive parents. It meant so much that they were there for my final home match."
More like this story
SUBMIT FEEDBACK
Click Below to:
This Week's Circulars
To view money-saving ads
For as little as $3.49*