Local nonprofits give animals second chances
Originally Published: April 15, 2018 6 a.m.
People young and old love animals for their companionship, but what about those animals that are hard to love because of disabilities or past abuse? Kingman is home to multiple nonprofits of the opinion that all animals, regardless of their pasts, deserve affection and the opportunity to live in safe and caring environments.
One such place is Journey's End Ranch Animal Sanctuary, run by former veterinary technician Cathy Ritlaw.
"I specialize in animals nobody else can deal with or would want to deal with," Ritlaw said. "The whole thing is not about me, it's about making them comfortable, safe and happy, but that does make me happy."
Ritlaw described herself as having been drawn to animals ever since she was born.
"I grew up in the Bronx, and by the time I was three or four, I was bringing home stray kittens and puppies, and anything else I found out there," Ritlaw said.
Her loves in life are dogs and horses, and throughout her life Ritlaw has had more than 40 dogs, almost all of which were shelter rescues. However, due to illness and allergies to dogs, Ritlaw currently has only one elderly dog at Journey's End. "I did just take in a senior dog that has behavioral issues from the shelter," Ritlaw said. "He lives outside, but his bed is right outside my window, and he likes that. He had been adopted and returned to the shelter twice, but he's coming around, and now he wants me to chase him at night and play tag."
Ritlaw also houses 13 horses, four burros, two sheep and two rabbits.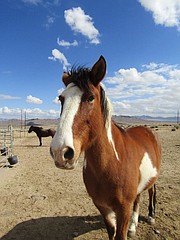 "The horses and burros were animals that just needed a home" she said. "They get misused and abused by people and then they get discarded, and they really deserve a second chance in life."
She said almost all of the horses and burros at Journey's End are physically disabled or mentally challenged because of abuse, and some can't even be touched.
Companionship, Ritlaw explained, is one of the best things that can be provided to those animals. They run and play with one another, "pretending to be stallions," and interact in ways that make them happy.
"I provide the right nutrition and the right living conditions so they can live as they would, and be as happy as they can be," Ritlaw said.
She added that the work done at Journey's End wouldn't be possible without the support she gets from the community.
"We've been very fortunate," Ritlaw said. "I work very hard, but I still feel extremely fortunate because we have some really great people who support us."
Another local nonprofit doing its part for animals is Mutt Matchers and Friends. Dogs find their way to Mutt Matchers from shelters and from those who can no longer look after their dogs.
Sandy Spruiell was working for animal control when she decided to open Mutt Matchers.
"She said she saw too many good dogs being put to sleep, and so she started lobbying and doing whatever she could think of," to open Mutt Matchers in about 2005, said Judy Torgerson, current president.
Mutt Matchers has rescued 484 dogs, and found new owners for them from around the country and Canada. Its doors stay open thanks to fundraisers, such as yard sales, and donations.
All the dogs that come through the organization are evaluated to ensure homes can be found for them by the right owners.
"We try to rescue adoptable dogs, ones that we know can be adopted," Torgerson said.
Charlene Haffner, vice president, said another reason dogs are vetted before being taken to Mutt Matchers is so the nonprofit can ensure they have adequate tools to take care of all the dogs currently residing there.
One dog was living at Mutt Matchers for four years. It sometimes takes a while for the right person to come along, but eventually, they show up.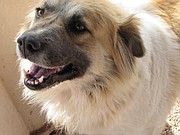 "We've had one here now almost 18 months, and he's a beautiful dog, but not the right people have come in yet," Torgerson said. "But they always come in."
Dogs aren't the only ones getting vetted, potential adopters are as well. That process includes ensuring the dogs go to good homes that also have adequate yard space. After a dog is adopted, Torgerson and Haffner said they even call the new owners and check to make sure everything is going smoothly.
"Everybody who works here and volunteers here has a love for animals," Torgerson said.
For them, it's all about seeing happy faces and happy dogs.
"To see one we rescue, and they've got their ears down and tails down, but then they hit our gate," Haffner said. "The tails come up, the ears come up and they're all of a sudden happy."
Those wanting more information, or who want to get involved with either nonprofit organization, can go to their Facebook pages or websites, http://www.jersanctuary.org/ and http://www.muttmatchers.org/.
There are plenty of other nonprofits throughout the area working to better the lives of animals, and can be found at https://greatnonprofits.org/.
More like this story
SUBMIT FEEDBACK
Click Below to: