Things to do in the outdoors as the weather turns better
Originally Published: April 18, 2018 6 a.m.
From boating at Lake Mead to hiking the Hualapai Mountains, there's an abundance of outdoor recreational activities for Mohave County residents to enjoy as the weather allows.
It's one of the redeeming qualities of living in the nation's fifth-largest county, an area of northwest Arizona covering 13,400 square miles where the Mohave and Sonoran deserts come together and the Grand Canyon runs through the upper Colorado River basin.
Between national parks and refuges and expansive public lands under control of the Bureau of Land Management, Kingman's great outdoors awaits anyone who wants to veer off the beaten path and explore the wonders of the high desert.
You'll find 21 mountain ranges with nearly 150 canyons and probably 1,000 washes teeming with vegetation and wildlife, if you know where to go. Here are a few suggestions:
Hualapai Mountain Park
Hualapai Mountain Park is Kingman's shining jewel, a county park just a few miles outside of town covering 2,300 acres with elevations from 6,000 to 8,000 feet. It's a perfect setting for picnics, hiking and camping.
The park offers a 10-mile trail system cut by the Civilian Conservation Corps in the 1930s and improved over the years with varying degrees of difficulty. If you're in good shape and start early, take a hike to Hualapai Peak at 8,250 feet.
Hikers will see a variety of mountain habitats and species of wildlife, typically squirrels, deer and the occasional bobcat. Bring plenty of water and tread lightly. A woman hiker had to be rescued from the trails over the weekend after injuring her ankle.
Camp under the stars for $17, or rent one of 24 rustic cabins starting at $70 a night. Hualapai Mountain Park, at 6250 Hualapai Mountain Road, is open from 7 a.m. to 7 p.m., and day use is $7 a vehicle.
Monolith Garden
If mountain biking is your thing, try Monolith Garden, northwest of downtown Kingman on U.S. Highway 93. It's part of the Cerbat Mountains range and features interesting volcanic rock formations.
Monolith Garden has about 7 miles of trails, accessible from three trailheads. For Metwell trailhead, turn west on Metwell Drive at the Chevron gas station, 1224 W. Beale St. Drive a couple hundred yards on Metwell to a right turn on a dirt road. The trailhead is located 50 yards up this road.
Coyote Pass trailhead can only be accessed from southbound Highway 93. Look for a large parking area near the top of Coyote Pass, where a restroom facility can be seen. Recommended for horse trailers and large vehicles.
Camp Beale Loop trailhead, managed by the city of Kingman, can be accessed by turning east on Fort Beale Drive off Highway 93, about a half-mile north of the I-40 interchange. Drive 1.2 miles north and east on Fort Beale Drive to a paved road, and follow this road up the hill to trailhead parking.
The park is also popular for hiking and horseback riding, with no motorized vehicles allowed. It's managed by the BLM and there are no daily use fees.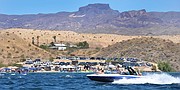 Lake Mead National Recreation Area
Lake Mead National Recreation Area is the place to go for fishing, boating, jet-skiing, cycling, hiking and other outdoor recreation.
With 1.5 million acres of mountains, canyons, valleys and two beautiful lakes (down on their water levels), this is one of America's most diverse year-round recreational areas. You can see Hoover Dam from the waters of Lake Mead or Lake Mohave, or find solitude in one of the park's nine wilderness areas.
Boating on Lake Mead and Lake Mohave is one of the more popular activities, with visitors bringing their own boats or renting from one of the marinas. Boaters can navigate more than 290 square miles of waterways, cruising the open water or relaxing in a private cove along the shoreline.
There are rules and regulations to ensure you don't end up as one of the lake's casualties. A good place to start is the Arizona Boating Guide published by the Arizona Game and Fish Department.
In recognition of Earth Day (April 22), the U.S. Park Service is waiving entrance fees at a number of parks, including Grand Canyon National Park and Lake Mead National Recreation Area. Check with each park for designated days and event schedules.
Packsaddle Mountain Loop
For those who get their thrills riding ATVs, Packsaddle Mountain Loop winds 16.5 miles through the Cerbat Mountains near the historic mining town of Chloride. The trail follows a long, winding shelf road and passes through the Chloride town site, where you can grab lunch at Yesterday's restaurant and get a glimpse of the past.
Other ATV trails in the Kingman area include the 32-mile Portland Mine Road that runs along a sandy wash in the Black Mountains, and then down into a shallow canyon. The 14-mile Thumb Butte Trail travels along rugged terrain and gravel washes in the Black Mountains.
Back at Hualapai Mountain Park, riders can access hundreds of miles of trails suitable for ATV travel ranging in elevation from 6,500 feet in the pines to 1,000 feet in the lower desert.
If you ride alone, pay attention to weather conditions and let someone know your route and expected time of return. It's a long way back if you get stuck out there.
More like this story
SUBMIT FEEDBACK
Click Below to: