Prep Roundup: Vols tennis finishes with perfect 6-0 mark in Section III

Originally Published: April 18, 2018 2:17 p.m.
KINGMAN – The Lee Williams High School boys tennis team capped the regular season Monday with two wins to finish undefeated in Division II, Section III. The Vols defeated Gila Ridge 5-4 and picked up a 6-3 victory over Yuma.
Lee Williams (11-3, 6-0) earns an automatic bid to the Division II State Tournament April 25, but first it will compete in the Division II Individual State Tournament starting Friday at Scottsdale Ranch Park/Tennis Center.
Kade Juelfs is the lone singles player to advance and faces Cactus Shadow's Colin McConnon.
In doubles play, Jordon Freeman and Logan Rosenbach open action against Nathaniel Lerma and Alvaro Martin Picardo.
Girls Tennis
Yuma 6, Lee Williams 3
At Yuma, the Lee Williams High School girls tennis team dropped a 6-3 loss to Yuma and a 9-0 setback to Gila Ridge Monday.
The Lady Vols will send Paige Cody to the Section III Individual State Tournament Friday at the Phoenix Tennis Center, where she will face Dysart's Ana Arredondo.
Lee Williams' Arden Schickner and Gaby Villar will also be competing against Youngker's Emily Cervantez and Frania Guardian.
Baseball
Kingman Academy 15, MALC 6
At Mohave Accelerated, the Kingman Academy High School baseball team picked up its fifth straight win Tuesday in a 15-6 victory over the No. 40-ranked Patriots (4-11, 1-7 2A West).
Ryan Hurley led the Tigers with four hits, five RBIs and three runs scored. Donny Tathum picked up the win after yielding no runs on three hits with four strikeouts in three innings of work.
No. 14-ranked Academy (12-5, 8-0) travels to 24th-ranked Parker (11-5, 8-0) Friday for a 3:45 p.m. contest.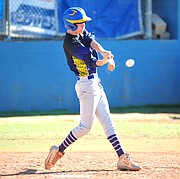 Chino Valley 8, Kingman 3
At Chino, the Kingman High School baseball team saw its three-game winning streak in the 3A West Region come to an end Tuesday in an 8-3 setback to the No. 10-ranked Cougars (12-3, 7-1).
Rilee Araya led the Bulldogs with two hits and two RBIs, while Mason Telford had two hits and Dante Bravo drove in a run.
No. 25-ranked Kingman (6-9, 3-5) hosts 28th-ranked Wickenburg (5-10, 2-6) at 3:45 p.m. Friday.
Softball
Kingman Academy 6, MALC 3
At Mohave Accelerated, the Kingman Academy High School softball team won its fifth straight contest Tuesday in a 6-3 victory over the No. 18-ranked Lady Patriots (8-7, 3-5 2A West).
Randa Short led the Lady Tigers with three RBIs, while Shaunti Short, Tori Salem and Maryssa Edwards each drove in a run.
Edwards picked up the win after allowing one hit with eight strikeouts.
No. 8-ranked Academy (10-5, 7-1) welcomes top-ranked River Valley (13-0, 8-0 3A West) to town Thursday for a 6:30 p.m. contest.
More like this story
SUBMIT FEEDBACK
Click Below to: