Prep Softball: Heitzman gives Lady Bulldogs win over Chino in extra innings

Originally Published: April 18, 2018 2:40 p.m.
KINGMAN – Kristen Heitzman knew she needed to get a base hit for the Kingman High School softball team. The sophomore had struck out in her previous four plate appearances Tuesday, but came through with a bases-loaded single to give the Lady Bulldogs a 6-5 win over No. 14-ranked Chino Valley in eight innings.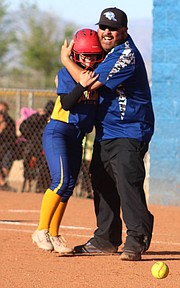 "It means so much to us," Heitzman said. "We're so excited. We came back and played as a team."
No. 26-ranked Kingman isn't the same squad that dropped an 11-1 loss to the Lady Cougars on March 11.
There were four different starters in the lineup, including Heitzman, and head coach Craig Lee had all the confidence in his No. 2 hitter.
"That's what I was telling her – 'You just have to stay positive and understand at any time, you can get it done,'" Lee said. "She had a positive attitude throughout the whole game and I was very proud to see her get that hit."
Heitzman found herself in a good spot in extra innings after Kayli Toms, Tessa Kelm and Jordyn Dan each hit a single to load the bases with no outs. Heitzman stepped up to the plate and laced a blooper over the third baseman and Lee immediately ran over to give her a big hug.
"She's been doing a phenomenal job," Lee said. "She doesn't have a lot of power, but she finds holes. She understand what her job is."
Kingman's Lilianna Valdivia also was instrumental in the win – holding Chino (9-7, 4-4 3A West Region) to five runs after it put up 11 earlier this season.
"Lilianna absolutely threw an outstanding game," Lee said. "She kept them off balance and really worked her spots. She worked her changeup and did it with a tight strike zone behind the plate. I was tremendously proud of Lilianna and our catcher Madi Bell."
Dan led the Lady Bulldogs with three hits and drove in a run, while Hailey Talyumptewa went 2-for-4 with two RBIs. Kearra Tauta and Payton Chamberlain each added two hits and an RBI to round out the top performers.
"I've said this team is talented as most teams in the state and I truly believe that from the bottom of my heart," Lee said. "We just haven't found ways to win games at the end yet. This was big. We don't make excuses, but we are just getting this group together as a whole in the last two weeks. … We have developed and worked really hard. I'm really proud of them."
The Lady Bulldogs yielded a run in the first inning and two more in the third frame, but bounced back with two runs in the bottom of the fourth to cut the deficit to 3-2. The Lady Cougars added a pair of insurance runs in the top of the fifth, but Kingman put up two runs of its own in the bottom of the fifth to inch within one, 5-4.
Facing a score-or-go-home situation in the bottom of the seventh, Talyumptewa came through with a RBI double to left field to score Dan and send the game to extra innings where Heitzman won it with her base hit.
"They understand if they can beat the (No. 14) team in the state, they can play with a lot of teams," Lee said. "What I take away is I'm proud of the girls and I think they got a taste of what it's going to take because we can't have a letdown after this."
The Lady Bulldogs (7-9, 5-3 3A West Region) are back in action Friday when they welcome No. 24-ranked Wickenburg (6-7, 3-5) to town for a 3:45 p.m. contest.
More like this story
SUBMIT FEEDBACK
Click Below to:
This Week's Circulars
To view money-saving ads
For as little as $3.49*