Earth Day: Bringing about the end of plastic pollution spearheads the efforts for this year's celebrations
Originally Published: April 20, 2018 6 a.m.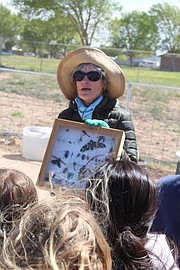 With her floppy hat blowing in 30 mph wind gusts, Denise Neath led two classes of Hualapai Elementary School third-graders on a tour of Dig It Community Garden Thursday, tying it into Earth Day celebrations Sunday.
She emphasized gardening methods that reuse and recycle, pointing out a compost pile on the way to the children's garden. Of special interest to the kids was Neath's display of bugs, some that chew up plants and others that are beneficial to plant growth and pest control.
Dig It Community Garden is hosting its second annual Earth Day celebration from 9-11 a.m. Saturday at Cecil Davis Park, 2301 Lillie Ave. It's geared toward children with garden activities and crafts like rolling pine cones in peanut butter and then bird seed, and taking them home to be placed in a tree as bird feeders.
Earth Day started on April 22, 1970, when Mother Nature was on the run, Neil Young sang. Millions of Americans joined in a peaceful protest to prod the government to act on environmental issues and threats.
"I think it's really nice," community gardener Teresa Faatz said. "I've been part of it since the beginning. The most important thing right now is everyone's paying it attention. Before it was an obscure thing. God gave us this beautiful planet to take care of it."
Earth Day facts
Earth Day was founded by Sen. Gaylord Nelson on April 22, 1970, with 20 million people participating.
The United States buried or burned more than 166 million tons of resources – paper, plastic, metal, glass and organic materials – in landfills and incinerators last year.
It takes about six weeks to manufacture, fill, sell, recycle and then remanufacture an aluminum beverage can.
Half the world's tropical and temperate forests are gone.
More than 2 million people die prematurely around the world every year due to air pollution.
Recycling, reuse and remanufacturing account for 3.1 million jobs in the United States.
Nearly 200 billion beverage containers are sold every year in the United States, two-thirds of which are in landfills, incinerated or littered.
Recycling saves three to five times the energy that incinerator power plants generate.
By reducing waste 1 percent a year and recycling and composting 90 percent of our discards by 2030, we could save 406 megatons of carbon dioxide every year. That's equivalent to shutting down 21 percent of the nation's coal-fired power plants.
More than 76 percent of cardboard boxes and 72 percent of newspapers were recycled in 2006, but less than 50 percent of printing and writing paper was recycled.
Source: Ecocycle.org
The world today faces challenges such as climate change, air and water pollution and landfills stuffed to capacity. When Earth Day comes around, conservationists and ecology-minded people take a stand for the planet with marches, cleanups and educational activities.
"Just treat the Earth good," Neath said of the celebration. "We try to tell people how to do that, especially children."
Kids will be planting sunflowers and marigolds in the children's garden, and Kingman's Clean City Commission will set up a table to educate them about recycling. There will be games related to food nutrition and story time with themes about recycling, reusing and reducing.
"Our whole garden is built on that," Neath said.
Mt. Tipton School in Dolan Springs held an Earth Fair and Talent Show Thursday with students singing, dancing, playing music, performing magic and comedy on stage. Classes displayed projects related to the environment and showed off "Speedy," the school tortoise.
Schools are being encouraged by EarthDay.org to mobilize students to end plastic pollution by 2020.
Single-use plastics, or plastic products that are used once and discarded, have grown into a critical problem of global proportion. That's why Earth Day 2018 is focused on elevating global awareness of plastic pollution and demanding effective action to reduce and control it.
"From poisoning and injuring marine life to disrupting human hormones, from littering our beaches and landscapes to clogging our waste streams and landfills, the exponential growth of plastics is now threatening the survival of our planet," EarthDay.org President Kathleen Rogers said on the website.
Neath is doing her part. She and her neighbors collect hundreds of plastic bags blowing through the streets and empty lots. The bags are folded and rolled into plastic "yarn" to make crochet mats that are given to homeless veterans each year at the Bullhead City stand-down.
Neath said Earth Day is like a holiday, marked on calendars.
"People can stop and think about it, kind of like going through Lent, a time to get back on track," she said.
More like this story
SUBMIT FEEDBACK
Click Below to: