Remembering 2 killed in Lake Havasu boating accident; 3rd victim flown to Phoenix for surgery
Lone survivor of boat crash in critical condition
James Towney, Today's News-Herald
Originally Published: April 23, 2018 5:57 a.m.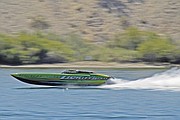 The lone survivor of a fatal boat crash on Lake Havasu on Saturday was airlifted to a hospital and underwent surgery overnight, according to people close to the situation.
Connie Kloepfer, who with her husband, Brad, and friend Paul Selberg, was involved in the high-speed accident on the south end of the lake, was reportedly airlifted to Phoenix's Barrow Neurological Institute and underwent surgery for multiple spine and internal injuries. The other two passengers died in the crash.
Brad Kloepfer, 57, was the driver of the Lickity Split, a DCB Performance Boats M35 Widebody catamaran, a 35-foot boat powered by a pair of turbocharged 1,350-horsepower engines that reached a top speed of 158 mph during the ¾-mile Desert Storm Poker Run Shootout on Saturday.
The accident occurred after the event, near Contact Point in the South Basin. Mohave County Sheriff's Office reported that all three passengers were wearing proper safety equipment at the time of the accident.
Selberg, 69, was a stalwart in the community who owned Selberg Associates, Inc., a planning and architecture firm that shaped some of the landmark buildings in Lake Havasu City. Among others, Selberg and his firm designed the Havasu Fitness building and nearby Acoma Executive Plaza and Lake Havasu City Fire Station No. 1. They also designed Sunflower Plaza that houses Anytime Fitness and Edward Jones Associates on Lake Havasu Ave., and the Starbucks along State Route 95 in the Havasu North Shopping Center.
The Lake Havasu Rotary Club, of which Selberg was an active member, published a statement of condolences to Facebook.
"We are so saddened at the tragic loss of one our clubs amazing Rotarians, Paul Selberg, who was killed in such a tragic accident yesterday. He will be missed and leave a hole in our Rotary family.
I know we will all make sure that (his wife) Judy knows her Rotary family is here for her."
The boating community mourned the losses.
Todd Taylor, who helps organize Desert Storm, described Brad Kloepfer as one of the nicest people in the industry.
"He's just a great guy," Taylor said. "He was always smiling and happy. He was very friendly and social. Just a good guy."
DCB Performance Boats posted a statement to its Facebook page, calling Kloepfer the driving force behind Lickity Split.
"He was a friend, a colleague and a kindhearted person who was always there to lend a hand to any boat owner, whether they owned a DCB or not … Brad, and his friend, Paul Selberg, who also died in the accident, will be missed tremendously. Our thoughts and prayers go out to their friends and family members."
Speedboat magazine publisher Ray Lee spoke highly of Brad as a driver to online publication Speed on the Water.
"Brad was the most friendly, most passionate boating enthusiast ever," Lee said in an article posted to speedonthewater.com.
"I never had a second thought of riding with Brad. He was one of the most cautious, competent drivers, especially when Connie was on board. I don't think there was any hot-dogging involved, I think it was just a fluke accident."
More like this story
SUBMIT FEEDBACK
Click Below to:
This Week's Circulars
To view money-saving ads
For as little as $3.49*