Helmetless motorcyclist killed in Andy Devine/Airway intersection crash Saturday
Originally Published: April 23, 2018 12:40 p.m.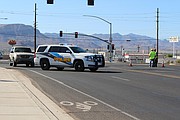 KINGMAN – A 37-year-old Kingman man was killed Saturday afternoon when his motorcycle crashed into a Ford Ranger pickup truck around the intersection of Andy Devine and Airway avenues.
Police say James Earl Paul was riding a black 2012 Victory motorcycle heading west in the inside traffic lane on Airway Avenue approaching East Andy Devine Avenue. The 1994 green Ranger was ahead of Paul traveling in the same direction, but in the outside traffic lane.
The driver of the Ranger began to merge into the inside lane in front of Paul who – authorities estimate to have been going more than 48 mph in a 35 mph zone – attempted to stop. Paul and his motorcycle skidded over 120 feet before crashing into the driver's side of the Ranger pickup.
Paul was thrown from the motorcycle, landed on the ground and became stuck underneath the truck. Paul was pronounced dead at the scene from massive head trauma.
No charges are expected to be filed. Police said the speed of the motorcycle is believed to have contributed to the crash. Paul was not wearing a helmet.
The 3200 block of Airway Avenue was closed for several hours during the investigation Saturday, which was completed around 4:30 p.m.
Information provided by Kingman Police Department
More like this story
SUBMIT FEEDBACK
Click Below to: