Mohave 911 | April 23, 2018
Originally Published: April 23, 2018 5:55 a.m.
Mohave County Sheriff's Office and Kingman Police Department reported the following arrests for the week ending April 20:
Shoplifting, drugs
John R. Tunstead, 35, of Kingman, was arrested April 18 on felony charges of drug possession and paraphernalia and misdemeanor shoplifting.
Police officers went to a store in the 3300 block of Andy Devine Avenue where it was reported that Tunstead had attempted to steal an energy drink.
When confronted by store employees, Tunstead consumed the drink and left on foot. Officers found Tunstead a short distance away. He was taken into custody and was purported to be found in possession of methamphetamine and the associated drug paraphernalia.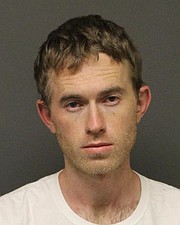 Heroin possession, sale
Troy Lawrence Salahub, 25, of Kingman, was arrested April 17 for felony narcotic drug possession and sale, paraphernalia and an active warrant.
Sheriff's deputies took a call from a Mohave County Probation officer who went to a residence in the 2500 block of Suffock Avenue.
While conducting a pat search on Salahub, deputies say they found drugs in his pockets. Deputies at the scene saw a glass jar with a brown substance and small baggie with brown substance, which Salahub admitted was heroin.
Probation officers told deputies about a safe in the vehicle, where they found about $2,300 in cash, pills and drug paraphernalia. Salahub allegedly admitted he was selling heroin.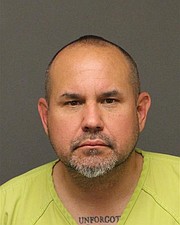 Aggravated assault
Davud Osman Sezgen, 45, of Kingman was arrested April 17 for felony aggravated assault with a deadly weapon during domestic violence, disorderly conduct and possession of a prohibited weapon.
Deputies responded to a residence in the 3200 block of Clack Canyon Road in reference to a weapons offense.
The reporting party told dispatch they heard gunshots and a female subject screaming at a neighbor's house. They saw a woman with her hand up, bleeding from the hand.
Another person said they were with the woman who claims she had been attacked with a machete.
Deputies announced over the PA system for Sezgen to come out of house, which he did, and was then arrested.
Deputies went to the hospital and found the woman was bleeding from her right arm and left hand. She alleged that Sezgen physically assaulted her and swung at her with a machete, causing the lacerations. She also said she heard gunshots as she was fleeing the residence on foot.
Drugs, warrants
Richard Lee Bass, 50 of Golden Valley, was arrested April 13 for felony dangerous drug possession and paraphernalia and two active warrants.
Deputies saw a white van traveling south on Beale Street that had a cracked windshield and recognized the driver, Bass, from previous contacts. They knew he had active arrest warrants.
During a traffic stop, Bass was taken out of the van. He reportedly admitted to deputies that there were glass pipes inside the vehicle. A search of the vehicle revealed three glass pipes and two baggies containing meth.
Drugs
Daniel Patrick Davis, 68, of Golden Valley, known as "Grandpa Dan," was arrested April 13 for felony drug possession and paraphernalia, use of a weapon in a drug offense and stolen property.
Deputies went to a residence in the 100 block of Hano Road on a drug complaint call. Deputies were informed that "Grandpa Dan" was selling methamphetamine at this address.
A man answered the door, and when questioned, advised deputies that his roommate was named Dan. The man allowed deputies into the home when a second man, Davis, came out of a bedroom.
Deputies told Davis why they were there, and when asked, Davis purportedly said he had a small amount of meth in his room. Deputies went into the room and found meth on an ashtray and inside a pill bottle, baggies, a scale, and a black handgun.
A records check revealed the gun was stolen from Las Vegas.
Drugs
Patrick Ray Junker, 58, of Kingman, was arrested April 13 for felony possession and sale of narcotic drugs.
Deputies took a call about a man selling heroin and contacted Junker outside of his home in the 3900 block of Roosevelt Street.
They knew Junker from previous contacts. When asked if he had anything illegal on him, Junker told deputies he did and allegedly removed a baggie from his pocket, which contained about 12.5 grams of heroin, which is above the amount for personal use.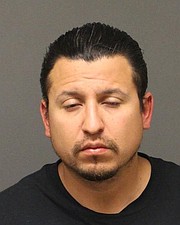 Aggravated DUI
Ernie Stephens Morales, 29, of Kingman, was arrested April 14 for aggravated DUI, a felony.
Deputies saw a silver sedan make several traffic violations which led to a traffic stop on Beale Street. The driver was identified as Morales and deputies could smell an odor of alcohol.
Morales admitted that he and a friend had been drinking in Laughlin the night before and he was trying to get home. Field sobriety tests and breath test were conducted, and Morales was found to have a blood- alcohol content of 0.17 percent.
Drugs
Christopher Neal Strauss, 49, of Kingman, was arrested April 15 for felony possession of drugs and paraphernalia.
Deputies stopped a red sedan near Thompson and Powell in Kingman for a traffic violation. The driver and passenger were removed from the car, and the passenger, Strauss was reportedly found in possession of a baggie of 0.7 gram of a white crystal substance.
More like this story
SUBMIT FEEDBACK
Click Below to: