Prep Baseball: Hecker, Hurley homer as Tigers win 2A West Region title

Originally Published: April 25, 2018 6:01 a.m.
KINGMAN – It's often said revenge is a dish best served cold.
The Kingman Academy High School baseball team decided serving it with some heat at the plate was a better idea, as Bradley Hecker crushed a grand slam and Ryan Hurley added two homers of his own Tuesday to give the Tigers the 2A West Region title with a 15-8 win over Parker.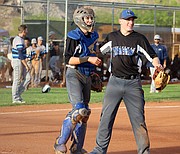 "It's big," Hecker said. "The last couple of years it always came down to the last game, if not the last couple of games. We always had a tough break and lost at the end of the year. To bounce back against the same team and win the region this year is big."
Parker spoiled Academy's shot at region title last year, but this season the Tigers made sure they were the ones celebrating on the field in front of a packed crowd at Southside Park.
"I'm very proud of these kids," said Academy head coach Bill McCord. "That's the first-ever region championship for the program. So it's pretty impressive to come back after the disappointing loss Friday."
Academy could have locked up the region championship Friday on the road against Parker, but came up short in a 10-9 loss.
Hecker and Hurley made sure that didn't happen again Tuesday with a combined seven RBIs, highlighted by Hecker's first career home run in the bottom of the second.
"I was on cloud nine," Hecker said. "I couldn't believe it. I thought I was dreaming, if I'm being honest. It was exciting."
The Tigers also had a great outing from Wyatt Hall as he yielded no earned runs on seven hits with four strikeouts and one walk in 6 1/3 innings of relief.
"He comes in here and he bears down under pressure," McCord said of Hall. "It's impressive."
Hall's poise on the mound paid dividends for the Tigers as they tightened up on defense to hold Parker scoreless after the third inning.
Academy carried that over to the plate to give Hall plenty of run support with a five-run fourth inning.
It all started when Hall singled to left field to start the frame, followed by Hecker reaching on an error and Donny Tatham earning a walk.
With Hurley still at the plate, Hall tied the game up by stealing home on a passed ball. Hurley would eventually be walked and Kaden Bean followed with a RBI single that would give the Tigers a 9-8 lead they wouldn't surrender.
Academy wasn't done yet though, as Kannon Butler was walked to score Tatham and Braden Judd hit a sacrifice fly to score Hurley for an 11-8 advantage. The Tigers tallied their final run of the inning when Butler scored on an error.
"It's tough to beat us twice," McCord said. "They were calm. I think defensively they were a little nervous, but we got some really clutch hits tonight that kept us going."
Hall and Hurley each tallied a team-high three hits, highlighted by Hurley's two-run homer in the first inning. Brad Ogden went 2-for-3 with two RBIs and a run scored.
Academy, which finishes the regular season at 13-6 overall, 9-1 2A West, awaits its seed in the 2A State Tournament. The AIA baseball bracket release show is scheduled for 2:30 p.m. Thursday.
More like this story
SUBMIT FEEDBACK
Click Below to: