Walkout: Teachers get support from staff and students
Originally Published: April 26, 2018 5:26 p.m.
If you drove along Stockton Hill Road Thursday afternoon, you saw teachers and supporting staff demonstrating in the first day of Arizona's teacher walkout. There was lots of red and about 350 people standing alongside the road with posters up high, proudly wearing their red shirts, and waving as cars passed by honking in support for more education funding.
Kingman Academy of Learning and Kingman Unified School District educators came together to voice their concerns about the conditions they face as educators in Arizona, but especially in a rural city.
Emily Baker, a counselor at Lee Williams High School, started 10 years ago with a caseload of about 250 students, and now a decade later her caseload has tripled to 600 students.
"It makes it hard to see the kids (deal with) the scheduling we need to do," Baker said.
Connie Fitzsimmons, a guidance counselor at Kingman High School, has a big caseload and can't get to every child who may need a counselors assistance.
Photo Gallery
Teacher Walkout - April 26, 2018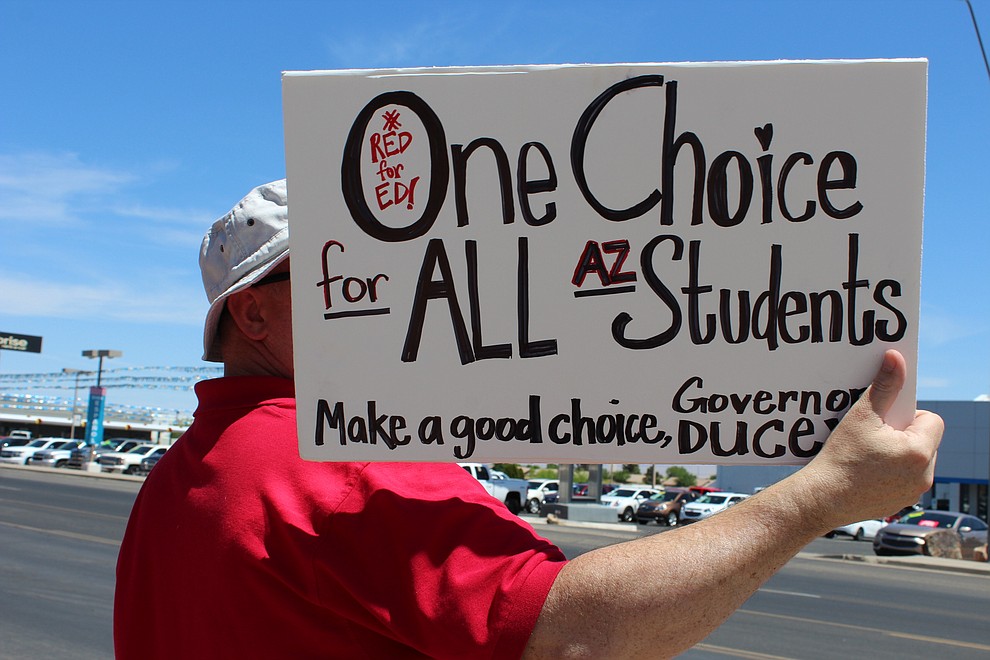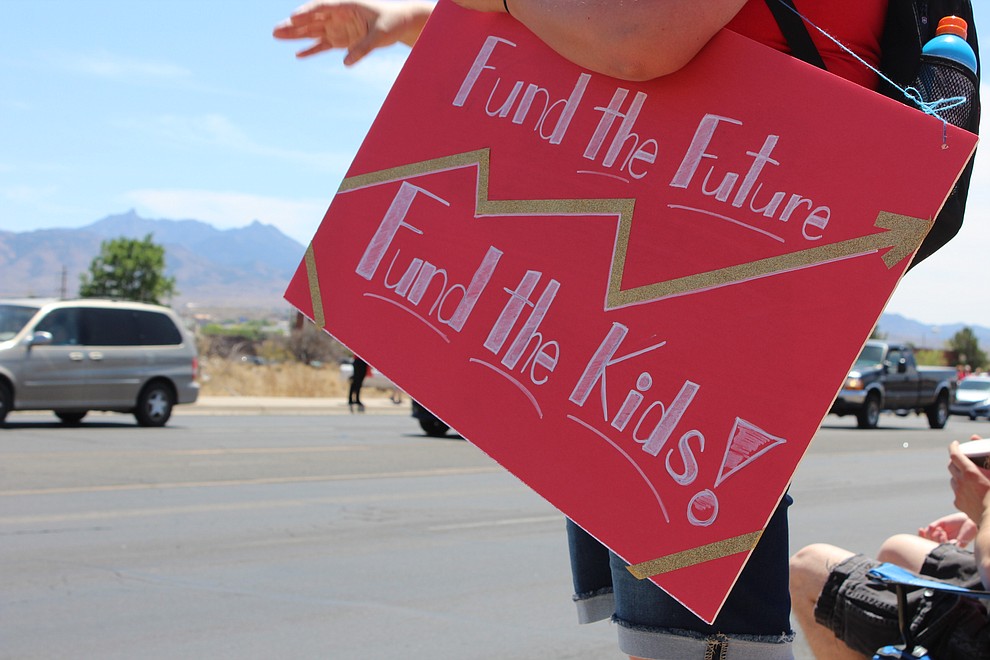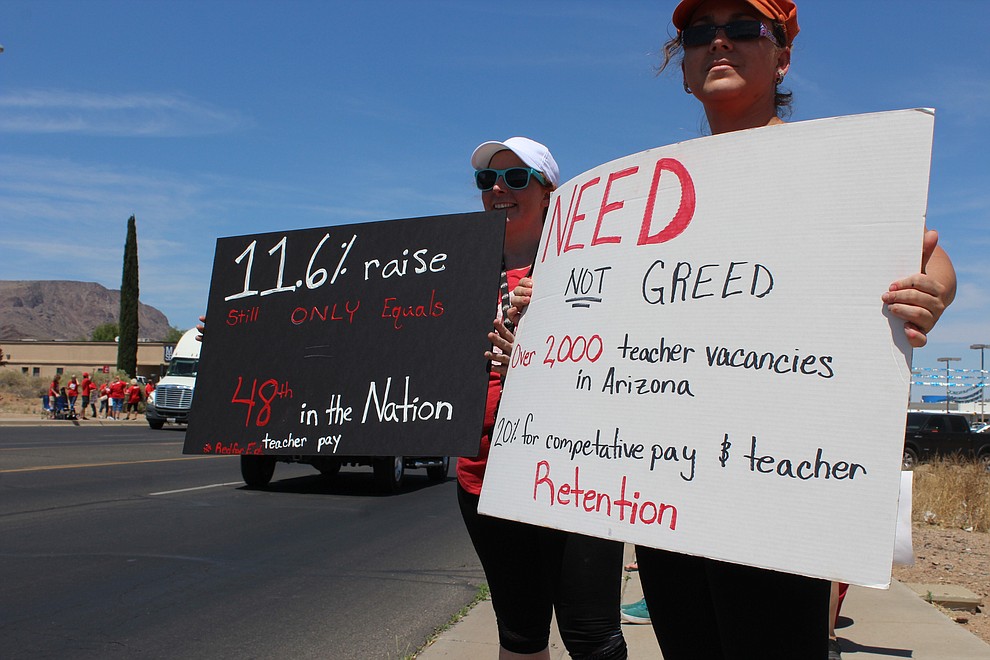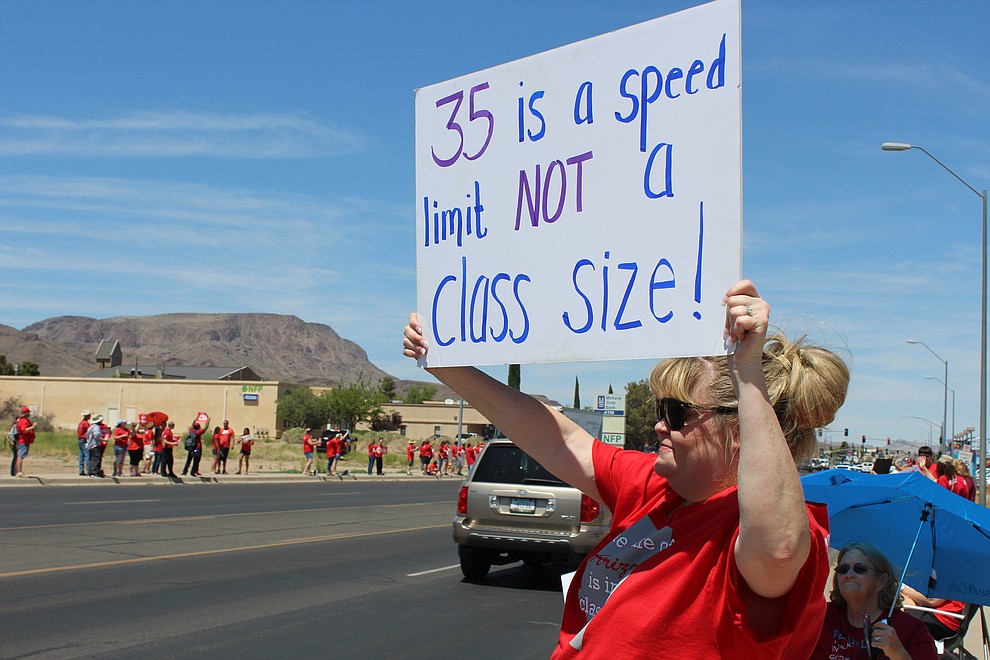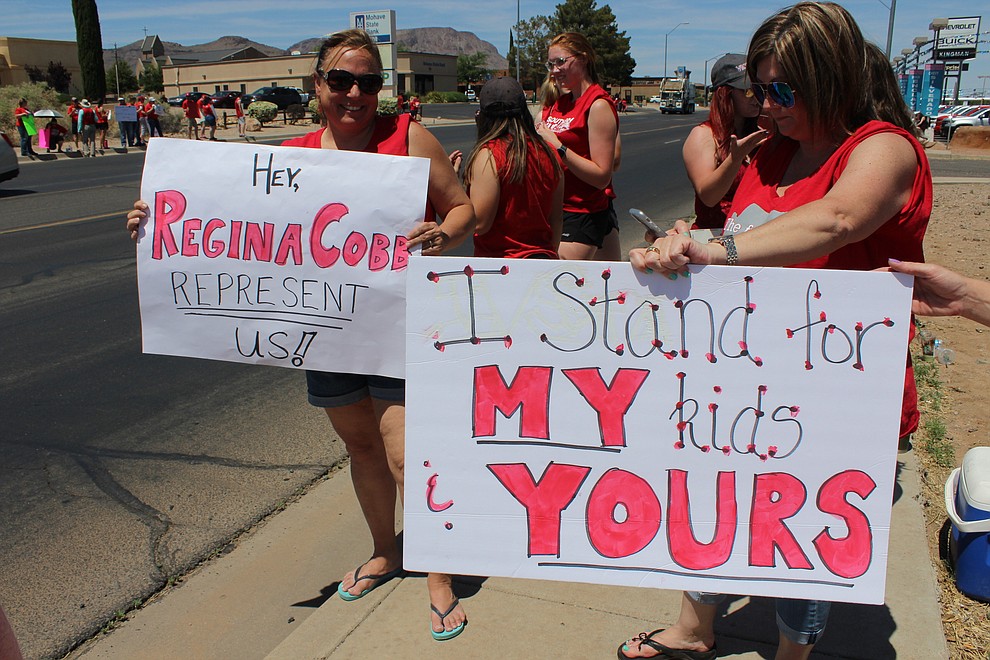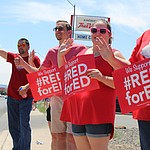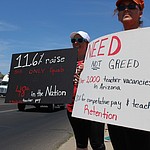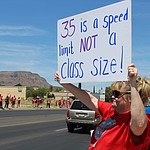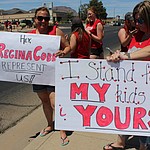 "It's pretty rough sometimes," she said. "Sometimes we can't get to everyone that we need to."
Mr. Longbrake, an Earth science teacher at LWHS, has to be careful what experiments he chooses to do with his students because of the low funding.
"Sometimes we don't have the funds for all of the experiments I would like to do," Longbrake said.
Not only are experiments an issue, but the textbooks he uses to teach his students are as well.
Longbrake said he has been in the district for 11 years and is still teaching with the same textbooks from when he first started.
"Science has moved on and we really need new textbooks and we don't have the funding for it," he said.
Brandon Clor, a social studies teacher and wrestling coach at Kingman High School, not only deals with old textbook but also having to fundraise for his wrestlers to go on tournaments.
The textbooks his AP students use were provided by him from a conference he attended, and he received them for free.
"Other books were falling apart," Clor said. "We don't have enough to give to every student in my world history class, so they can't take books home."
Arizona Students need your help
• Since 2008 AZ has cut 1.5 billion in school funding more than any other state. We are still missing 1.1. billion.
• Since 2009, AZ has lost $4.56 billion in public education funding.
• AZ is ranked 48th in teacher to student ratio.
• AZ is ranked 50th in counselor to student ratio.
• AZ has over 2,000 teacher vacancies = 60,000 students without a permanent certified teacher
• 3,400 classrooms are without trained or certified teachers.
• If educators received an 11.6 percent raise in AZ, we would be 48th in the nation.
Don't blame our districts
• AZ districts spend less on admin costs than the national average: $780 per student vs $1,173 in 2016.
• AZ school districts spend about $3,300 less per student that the national average. In per pupil funding, AZ is ranked 48th in the nation.
• Despite our growing population our public schools get nearly 15 percent less funding than 10 years ago.
• School Tuition Organization tax credits have drained over $1 billion from AZ revenue since 1998.
• Capital funding has suffered the largest cuts, $2 billion since 2009.
--Information provided by Arizona Educators United
For his wrestlers, they have to pay for the five tournaments they go to every season, and they have to travel long distance, pay for hotel rooms, food and entry fees.
"I never went into education thinking I'd get rich," Clor said. "But I didn't take a vow of poverty either."
Margaret Smith, a teacher at LWHS, says the heartwarming community is supporting educators.
"Governor and legislatures you got to do better for us," Smith said. "You can't forget about the rural schools either."
Thursday morning at the Kingman Area Chamber of Commerce morning mixer, education and the walkout were briefly discussed.
Penny Pew, district director for Rep. Paul Gosar, was the featured speaker, and Mary McCord Robinson, who is running for state Representative in Legislative District 5, said she believes Thursday was a "landmark day" in Arizona because of the teacher strike, had a little tit for tat at the mixer.
"What is the congressman's position on that?" she asked Pew.
"There is no position," Pew said. "That is not a federal issue."
David Brill, running for the office currently held by Gosar, was also curious as to the representative's stance on the state of education in Arizona.
"How has he supported education in his three terms?" Brill asked of Pew.
"He has supported education …"
"And how?" interjected Brill.
"Education is a local issue," Pew responded.
Kingman Unified School District has canceled school for Monday, except for Mt. Tipton in Dolan Springs and La Senita. It will be a work day for employees. Administrators will decide by 2 p.m. Monday if they will resume classes on Tuesday.
Kingman Academy of Learning said in a letter dated April 24 to parents that school will resume Monday.
Related Stories
More like this story
SUBMIT FEEDBACK
Click Below to: