Students want more funding for schools, too

Originally Published: April 26, 2018 5:39 p.m.
KINGMAN – A group of about 70 students, teachers and #RedforEd advocates gathered at Locomotive Park Thursday afternoon in support of the movement aiming to make Arizona schools better places to learn and teach.
Teachers and students from Lee Williams High School, White Cliffs Middle School, Desert Willow Elementary School, Kingman Academy of Learning and other schools packed the park to hear students and coworkers speak about what the movement meant to them.
Chase Walther, a 17-year-old senior at Lee Williams High School, was one of the event's organizers. He said that while the rallies in support of the movement are great, he wanted people with something to say to have a place where they could speak. Walther was one of those people, and the event's first speaker.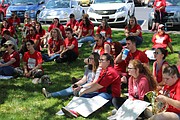 "We are out here because we want to fight for our education," he said. "We want to fight for our right to be on the same playing field as everyone else in this country."
Porsche Fellers, another 17-year-old senior at LWHS, also helped to organize the event.
"I've been in the KUSD school system since kindergarten, since day one," Fellers said. "I've seen how it has gradually declined … most of our math textbooks, or this year's economics textbooks, have been photocopies. We just had big stacks of paper that have been our textbooks because the schools don't have funding for that."
Councilman Travis Lingenfelter attended the event, and told Walther that Council would proclaim its support for #RedforEd at its meeting Tuesday.
"Why do we feel so disenfranchised with our voice? It's because we've never been given the opportunity to use it, we've never been taught to use it," Walther said. "We want to change that today, and Monday and Tuesday and Wednesday, and however long it takes for the state Legislature to see that we're serious …"
Related Stories
More like this story
SUBMIT FEEDBACK
Click Below to: