Tigers, Lady Tigers make school history with berths in the 2A State Tournament

Originally Published: April 27, 2018 5:59 a.m.
KINGMAN – For the first time in school history, the Kingman Academy High School baseball and softball teams are both in the postseason during the same year. It couldn't have come at a more perfect time either, as this year's senior class has a special bond.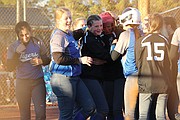 "We've grown up with a lot of those boys and we've played the sport together since sixth grade," said Academy senior Jillian Winters. "It's really awesome going seven years and ending with us both going to state.
"This is our last time to play a competitive sport for those that aren't going to play college ball," Winters continued. "It's definitely more important this year than it has been. There's more at stake."
This will be the last time Winters, Kassidy Campbell, Chloe Elliott, Maryssa Edwards, Tori Salem, Shaunti Short and Jessica Plew will play together as Lady Tigers. The group will enter the 2A State Tournament with the No. 8 seed and face No. 9-seeded AZ College Prep at 3 p.m. Saturday.
The Lady Knights (13-3, 9-1 2A Metro South Region) will be the home team at the Rose Mofford Softball Complex as they won their region. AZ College Prep put up an astounding 93 runs in their last four games, highlighted by a 34-18 win April 19 at Santa Cruz Valley.
"We have to look to look at this as if we're playing Lake Havasu or River Valley," said Academy head coach Tim Pena. "I'm going to plan for that team to be lights out and we just have to prepare for that. We need to take care of our thing and I think we'll be fine."
The Lady Tigers (12-6, 9-1 2A West Region) finished the regular season with a bang, as they won seven straight region contests and outscored their opponents by an 86-14 margin. Academy looks to keep that going Saturday and advance to the next round at 6 p.m. Friday, May 4.
Baseball
The No. 15-seed Kingman Academy High School baseball team will have plenty of time to prepare for No. 2-seeded Wilcox as the two teams don't meet in the 2A State Tourney until 6:30 p.m. Friday, May 4.
The Cowboys (13-2, 10-2 2A East Region) finished tied for first in their region, but Bisbee (16-2, 10-2) won the tiebreaker with a 12-2 conference record. Due to that fact, Academy will be the designated home team at the Goodyear Baseball Complex – South.
Wilcox ended the regular season on a four-game winning streak, while the Tigers (13-6, 9-1 2A West Region) have won six of their last seven games.
The two teams last met during the 2014 Division III State Championship with Academy edging the Cowboys 1-0 at the Surprise Sports Complex.
More like this story
SUBMIT FEEDBACK
Click Below to:
This Week's Circulars
To view money-saving ads
For as little as $3.49*