Prep Softball: Academy's Plew making the trek to Portland

Originally Published: April 29, 2018 6 a.m.
KINGMAN – It didn't take very long for Jessica Plew to know where she wanted to continue her softball career. The Kingman Academy senior made the trip north to Oregon and quickly decided that Concordia University-Portland was the right choice.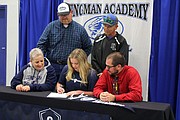 "When I went up there during the summer, I just fell in love with the pine trees and the ocean," Plew said. "So Portland was just a great place and it was a really good fit. The school is small, so it's not a huge jump."
While Plew looked at other colleges in Washington and Oregon, she knew joining the Cavaliers was the best fit after talking with head coach Shelley Whitaker. She'll join a four-year college and she hopes to make an immediate impact.
"I'm excited to broaden my knowledge of the game and learn from the older players," Plew said. "I'm really thankful for all my coaches, my family and my teammates that have helped get me where I am because I wouldn't be where I am without them."
Plew's time with the Lady Tigers has featured unparalleled success with three straight trips to the state tournament.
The senior struck out 108 batters this year and posted a 3.29 earned run average in 87.1 innings.
However, those numbers don't show her dedication to the sport.
"Playing travel ball really takes you to the next level because you can't stop if you want to go to college," Plew said. "I've worked really hard for the last eight years to get where I am. So I'm really proud of myself and my team especially because I wouldn't be where I am without them."
Academy head coach Tim Pena witnessed first-hand how much work Plew has put in over the years.
As soon as she was in high school, Pena pitched with her at least three days a week. That was in addition to Plew playing travel ball.
"That's a lot of dedication," Pena said. "That means you only get two or three months off out of the year. That's just what it is – it's no different than anyone else that are going to the next level. They have to put in a lot of work."
There's no question Plew deserves to continue her career, but she's had to battle even more this season.
She suffered a wrist injury that kept her from hitting, but she's finally 100 percent.
"I've never had an injury where I've had to take a huge step back," Plew said. "So it's been a little difficult, but my family and coaches have been so supportive."
That support isn't likely to disappear, but she'll soon have to leave the friendly confines of home and begin her quest at the next level.
"I'm going to miss all my teammates," Plew said. "I've played softball with them since I was in t-ball. So I'm going to miss hanging out with my friends and playing ball, but I'm ready for the next step."
More like this story
SUBMIT FEEDBACK
Click Below to:
This Week's Circulars
To view money-saving ads
For as little as $3.49*