New Hill Top owners plan 1950s-style motel renovation
Originally Published: April 30, 2018 6 a.m.
As a kid, Makenzie Baker passed by the Hill Top Motel on Route 66 so many times without giving it nary a glance, other than noticing the cool neon sign and view from the pool.
But when the dilapidated motel went into foreclosure in December and was bought by Mohave State Bank at auction, she didn't want to see it demolished and replaced by who knows what.
Baker and her husband, Francisco Sinopoli, both licensed chiropractors, formed Black Hat Properties and purchased the motel for $157,500, with the bank accepting their offer in February and closing escrow April 13.
They plan to invest more than $500,000 renovating the 30-room motel and bringing it back to its 1950s glory days.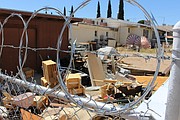 "It's rough," Baker conceded Friday at the motel with bucket-size potholes in the parking lot, a pool that's been dry and cracking for years and paint flaking off the iconic sign.
"It's a lot of renovation. We're just going to chip away and see where it ends up. We'll finish it." Inside Room 120, Baker points out the 1950s décor of wood paneling, an old dresser and attached lamp and a TV that's so outdated the thrift stores won't even take it.
Baker's vision is to clean up the property and restore the outside as close as possible to its original look, maybe paint it orange and teal, trimmed in white.
She wants to modernize the rooms, replacing the carpet with hardwood flooring and expanding a couple rooms into "luxury" suites. All of the old mattresses and bedding have been removed from the rooms, along with 30 to 50 years of stuff that should have been replaced long ago.
"Any of the old furnishings that are still in good shape, we want to keep and restore, the little dressers and light fixtures," Baker said. "A couple of the bathrooms have lime green tile. That's definitely 1950s. Modern vintage is what we're looking for."
Baker and Sinopoli didn't bother to call out a building inspector before putting in their offer, knowing there was going to be a list of problem areas and code deficiencies just from looking at it. There were people still living in the rooms.
"The charm is in what's here," Baker said. "My husband and I have always loved the sign. We finally drove into the parking lot and enjoyed the view."
Baker has heard a lot of stories from people who used to hang out at the pool in the summer, and in less than five minutes Friday, two women pulled into the parking lot and told her how appreciative they were that she bought the motel and plans to renovate it.
Baker, a graduate of Kingman High School, went to Flagstaff and Portland, Oregon, to get her chiropractor degree and practiced in Reno before returning to Kingman to be closer to family.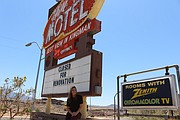 She shut down her downtown chiropractor office after giving birth to her first child, Luca, about nine months ago to become a stay-at-home mom.
"I'm kind of one of those people who has a million things going on around me," she said. "We renovated a house downtown, so we have an idea as to what it's going to take and how much. We set out looking for a smaller property, maybe another house to renovate. This came along and we went big."
An Oct. 29, 1953, bulletin from the Mohave County Chamber of Commerce announced the development of the $60,000 Hill Top Motel of "modern design," which was 20 rooms at that time.
It was built by John Meisheid, a general contractor and apartment owner from Santa Monica, California. He bought 35 lots with 350 feet of frontage along Route 66.
The motel is built with concrete blocks and cement slabs, topped with a stone slag roof. Each room is 16-by-20-feet with stall showers a small vanity outside the bathroom.
Center walls were made of acoustic blocks from volcanic ash to deaden sounds from the next room.
"The sign is one of the most photographed along Route 66. It's an icon," said Josh Noble, director of tourism for the city of Kingman. "I'm hoping it gets renovated as a historic motor court-style motel and gets back into operation."
With pending designation of Route 66 as a National Historic Trail, old motels that once served motorists on the Mother Road will become even more prized, said Jim Hinckley, author, historian and Route 66 ambassador from Kingman.
There have been a few examples of successful motel renovations along Route 66, including the Globetrotter Lodge in Holbrook; Blue Swallow Motel and Roadrunner Lodge in Tucumcari, New Mexico; and Wagon Wheel Motel in Cuba, Missouri.
"It's been a fun project already," Baker said. "You'd be amazed at how much we've taken out of here, about six tons of garbage."
More like this story
SUBMIT FEEDBACK
Click Below to:
This Week's Circulars
To view money-saving ads
For as little as $3.49*