Local contractors feel shortchanged in bidding for public projects
Originally Published: August 2, 2018 6 a.m.
With plenty of work already on his plate, local general contractor Toby Orr isn't complaining that T.R. Orr Construction wasn't awarded the $4.5 million contract to build Fire Station No. 22 for Kingman Fire Department.
It's not going to make or break him, or leave his bottom line with its bottom dollar.
But the fact that Kingman Fire Department's selection committee chose Core Construction, a Phoenix company that does hundreds of millions of dollars in construction around the nation, means Kingman will be losing out on taxes and other economic benefits from the project, Orr said.
The committee evaluated qualifications from four firms: Core Construction of Phoenix; KCS Construction of Flagstaff; Willmeng Construction of Phoenix; and T.R. Orr Construction of Kingman.
The City of Kingman and KFD will enter into negotiations with Core to establish the scope and contract terms for the fire station and training center to be built at 2101 E. Andy Devine Ave. Expected date of completion is Dec. 31, 2019.
"The City of Kingman has a budget of $4.5 million, but what are you going to get for that $4.5 million?" Orr asked during an interview at his office on Bank Street.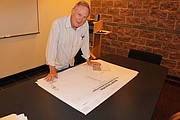 "People don't realize in a small town the multiplier effect. I buy all my insurance here. I buy all my vehicles here, everything you want to buy. All our bank deposits are local. Does Core have accounts with Mission Bank, Mohave State Bank, Horizon (Bank)?
"Do they buy local insurance? There's an insurance agent that would love to sell them insurance. We have about 30 employees that all have houses here. They buy groceries here. All the softball teams we sponsor, Little League, soccer. Does Core sponsor any?"
In the past, bidding on all public projects such as schools, fire stations and municipal buildings was strictly competitive, going to the lowest bidder, but that brought on all kinds of problems, Orr said. They would make it up in change orders along the way, or end up going broke.
The Legislature passed a law in the early 1990s to use other methods of construction procurement, including design-build proposals in which the architect designs the project and hires the contractor to build it – the idea being that they're on the same page from the minute the dirt is turned.
For the fire station, the City went with the Construction Manager at Risk process, or CMAR, a one-step procurement competition in accordance with state law. The architect is hired early in the design process, and then a contractor is hired for construction services, subject to agreement on a guaranteed maximum price.
Kingman's selection committee scored the construction companies on a matrix of weighted selection criteria: experience of key personnel to be assigned to the project (30 points); understanding of the project and approach to performing the required services (25 points); experience and qualifications of the firm (15 points); general information (10 points); subcontractor selection (10 points); and overall valuation of the firm and its perceived ability to provide the required services (10 points).
There's no "perfect world" when it comes to public projects, Orr said.
"I used to be a firm believer in both the construction manager at risk and design-build," Orr said. "I'd be shot out of the saddle because somebody from Timbuktu comes in and low bids and makes it up with change orders."
A 2017 market study on K-12 school construction by Arizona Builder's Exchange found that as few as three firms were consistently getting awarded work in the market's various components.
Arizona has more than 200 school districts spending more than $500 million on designing and constructing facilities every year.
"It would stand to reason that among the state's more than 25,000 licensed architects and engineers and more than 10,000 licensed general contractors, there would be a ripple effect based on firm size, where a large number of small procurements was spread across a large number of firms," the report's executive summary stated.
The report also noted instances of business relationships that the new procurement law would quash, including architects, contractors and school officials taking trips to Mexico and the South Pacific, golf outings, high-dollar restaurant tabs and solicitations for school causes and bond campaigns.
Dustin Lewis, owner of Lewis Equipment Services in Kingman, said the fire station contract has nothing to do with him, but he felt construction manager at risk and job order contracting, or JOC, are not fair processes.
"I like to see local companies when it's something like that because the tax dollars stay here and tax dollars are important and at stake," said Lewis, who also posted comments on Kingman councilmembers' Facebook.
"When it's the low bid, you never know where it came from. It may be somebody from New York and all that tax money leaves. They have no local preferences. Mine's merely about tax dollars. The sales tax dollars is a big issue."
Orr said he could understand if it's a $50 million project or something like the new Mohave County Courthouse.
"I'd say let Core have at it. That's way out of our league," he said. "But a $4 million fire station. That's not out of our capability. I've built two fire stations, one on Eastern Avenue and one in Lake Havasu City."
It's not the first time local companies have felt shortchanged in their pursuit of government contracts.
Donna Crouse, communications coordinator for Mohave Engineering Associates, said the issue is about qualification criteria, which are determined by county staff and selection committees.
"Our specialties are limited to what local demand has needed," Crouse told the Daily Miner in 2016 after being left out of a Mohave County contract for surveying services. "Drainage, intersections, surveying. Obviously our survey team has a lot of detailed experience in 30 years of past work for the county. So the problem we deal with is even though local consultants have greater experience with the local terrain and local issues, they don't qualify on broader specialty services that larger firms may have."
More like this story
SUBMIT FEEDBACK
Click Below to: