From splash pads to pools, here are some ways to beat the heat for the rest of summer
Originally Published: August 6, 2018 6 a.m.
We'd like to think the dog days of summer are behind us, but August is sure to bring another heat wave – and as soon as this week – and the hum of air conditioners can be heard through September.
For the next couple weeks, you can beat the heat by jumping into the Centennial or Grandview pools, which will be closing Aug. 18 as the lifeguards return to school.
After that, the schedule will be modified to 3-5 p.m. Monday, Wednesday and Friday at Centennial, and 3-5 p.m. Tuesday and Thursday at Grandview, said Beth Matthews, recreation coordinator for City of Kingman Parks and Recreation Department.
About 300 people a day use the pool during peak season, including tourists who are traveling through town and find out the pool is just off Interstate 40, she said. Admission is $3.
"Kids have freedom," Matthews said. "Parents just drop them off and we watch them. It's kind of a baby-sitting service."
Centennial Pool, located at Centennial Park, is a deep-water, 50-meter pool ideal for strong swimmers, and features a 140-foot water slide. It's got a concession stand, picnic tables and shade area.
Grandview Pool, located at Lee Williams High School, is a smaller neighborhood pool with a baby pool and splash pad area accessible by wheelchair. It also has a grass area and picnic tables.
Here are some other ways to cool off this summer: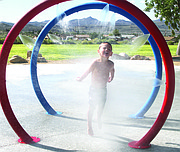 Splash Pad
Built by the Venture Club with $250,000 in community donations, the 3,000-square-foot Splash Pad is a safe water playground for kids at Cecil Davis Park, Southern Avenue and Van Buren Street.
They run through showers of water on a soft, padded surface. It's free and fun and they don't have to know how to swim.
The Splash Pad's flow-through design stores water in an underground tank, and the water is used to irrigate the grass at night.
Cecil Park has plenty of grassy areas, ball fields, a basketball court and picnic shelter with grills.
Hualapai Mountains
A short jaunt up Hualapai Mountain Road takes you to 8,000-feet elevations where temperatures are generally 10 degrees cooler than in town.
Mohave County's Hualapai Mountain Park offers 2,300 acres with elevations ranging from about 5,000 feet to 8,417 feet. There are 10 miles of hiking, biking and equestrian trails offering spectacular views of the desert and mountain ranges, along with campsites and cabins for overnight stays.
It's a clear, cool environment perfect for groups and families to enjoy the beauty of nature and breathe some fresh, mountain air.
Colorado River
A short drive from Kingman is the Colorado River with about 1,000 miles of shoreline along Mohave County. Lake Mead, Lake Havasu and Lake Mohave are ideal destinations for swimming, boating and fishing.
Camp Davis, operated by Mohave County Parks Department, attracts a wide variety of visitors for jet ski rentals, fishing and camping. It has picnic areas, a swimming beach and boat launch.
Lake Mohave is part of Lake Mead National Recreation Area, with popular sites for camping, swimming, fishing and kayaking at Cottonwood Cove and Katherine's Landing.
Brenden Theatres
Get out from under the sun. Find a new movie you want to see, pick the hottest afternoon of the week and kick back in comfortable seats inside an air-conditioned movie theater.
Most movie theaters have a baseline temperature of 74 degrees, and unless there's a big crowd of movie-goers, it's going to feel cold. Also in stadium-style seating, the lower levels may be slightly cooler than the top rows.
Brenden Theatres, 4055 Stockton Hill Road, has four stadium-style theaters, assisted listening devices and free parking.
Admission is $8.50 for adults, but you can save a couple bucks and spend the hottest part of the day inside for $6.50 matinee shows. Put the savings toward popcorn and soda.
Editor's Note: This story has been changed to reflect that the Centennial Park and Grandview Avenue pools will be closing Aug. 18.
More like this story
SUBMIT FEEDBACK
Click Below to: