Golden Eagles invites you to soar with flying fun
Local radio control model aircraft club wants to get Kingman flying - and tourists coming

Originally Published: August 8, 2018 6 a.m.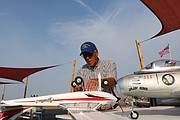 KINGMAN – Amidst the sound of propellers, laughter and friendly jesting, members of the Golden Eagles RC Club can be found at their field most mornings and evenings as they work on flight patterns, mechanics, and on introducing the community to the sport they love.
The Eagles usually start gathering daily at 7 a.m. at their temporary field, Heaven's Corner, across from the Kingman Airport and Industrial Park. Of the club's 38 members, there is a wide range of ages, which members say makes for an interesting dynamic on the ground and in the sky.

Jon Wilson, the club's president, called the RC experience "spectacular," and not just because of the enjoyment he gets from being in the air. The oldest Eagle is 89 years old and the youngest 6 years old, which Wilson says makes for a "blending of history and technology."
"It's fascinating to watch them feed off each other's knowledge," Wilson said. "Fascinating."
Wilson has witnessed the tremors in a man's hand subside once he grasped the airplane controls, and enjoys seeing younger generations help and encourage their elders, and vice versa.
"We've got this fellow here who's been trying to learn to fly for nine to 10 months," Wilson said. "He brought his grandson out, and I flew his grandson for about 10 minutes and he just picked it right up. Grandpa's flying then went from absolutely never going to make it to landing in one session. I'm fairly convinced that the impact of seeing his grandson do so well spurred him on."
That's the kind of community involvement and got-your-back mentality the Eagles envision for their club, which was chartered with the Academy of Model Aeronautics in November 2017. Wilson said he's stuck with flying since 2005 because he enjoys the diversity of people who turn out to the field for events and races.
Race, age, and any other manner in which people can be categorized is irrelevant to the Eagles. All that matters is an appreciation for flying and having a good time. He pointed to a Florida community, On Top of the World, which advertises their RC field nationally.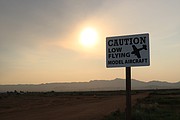 "I believe that RC in Kingman can draw people to this community," Wilson said. "Admittedly, they'll be mostly retired people because employed people are going to fly where they can work. But because we'll be right along Route 66 wherever we settle, almost all RC flyers, when they drive they travel with an airplane. And when they find a place to fly, they do. It's their way of taking a break."
He said once people get a few flights in, perhaps they will drive into town and see what else Kingman has to offer.
Getting involved in the public club is as easy as reaching out to Wilson at vvflyboy@gmail.com or 928-897-2930, signing an insurance document, and setting a time to go out and fly. Some planes at the field move as fast as 200 mph, but first-time flyers will use a training aircraft, the controls for which range from beginner, intermediate and expert so the pilot can adjust accordingly as their flying improves.
Eric Reinhart started flying radio control models in 1997 with his son before moving to Kingman in 2005. For him, enthusiasm for RC doesn't come from placing first in competitions, but from the simple pleasure of watching planes in the air.
"I enjoy flying the models, it's just fun seeing them fly," he said. "I'm not one of the competitive guys, I don't do racing or competitions of any kind. I just enjoy flying the models."
More like this story
SUBMIT FEEDBACK
Click Below to: