Kingman addresses local racism head on

Originally Published: August 8, 2018 5:59 a.m.
KINGMAN – Trinity Episcopal Church was packed Monday night with African-American, Native American, Hispanic and white Kingman residents wanting to discuss intolerance and racism within the community, a discussion that was led by National Association for the Advancement of Colored People representative Roy Tatem, who said addressing racism requires "learning, unlearning and relearning."
Sacha Baron Cohen's "Who is America?" Showtime segment featuring Kingman has thrown the City, its representatives and residents into damage-control mode. Many residents have said the individuals in the fake town hall meeting were not accurate representations of the people of Kingman. While Tatem said he doesn't believe the individuals in the show speak for the entire community, he pointed out that what's important is that a discussion about race takes place.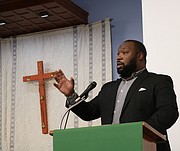 "And the sad part about it is people will say 'Don't go, don't confront it, don't put yourself in that situation,' and I believe that is why we still have to talk about racism and race in 2018," Tatem said. "Because if there is an event of racism or racial injustice, people will say don't talk about it, leave it alone. We've never really addressed the root cause of the issue."
The question to ask, Tatem said, is "How do we move forward?" Discussing the issue rather than turning a blind eye is vital, as is listening to the experiences of others who have suffered racial injustices that are foreign to a majority of Kingmanites.
"I think that before people can move on, we have to first confront the issues that are there, and I think that can start by a lot of people here listening to the minority people here about their experiences," said one man in the crowd.
He continued by saying that racial slurs, micro-aggressions or racist graffiti may slip past those who are not directly affected or targeted. But for minority Kingman residents, those occurrences do not go unnoticed.
"Those are my realities that I see here every day, and those are the realities my children see here every day," the man said. "And so those are things that I think are important for people to share."
Another resident took the opportunity to say a community can't be judged by graffiti, and that each resident should be judged individually and on how they portray themselves in the community.
"It's just writing on the wall, it doesn't mean anything," he said of racist graffiti. "It could be a juvenile kid just being a little pest, and that doesn't make us racist."
But Tatem said what matters is that intolerant language and graffiti exists in Kingman, and they may affect minority residents differently than they do white residents. Those who are not affected by those activities should not disregard those who are.
"All I'm asking is to be empathetic to someone who's saying, 'This is offensive,'" Tatem said. "I think that's where we start."
Kailyn Smith, a senior at Lee Williams High School and a "black teenager living in Kingman society," told the crowd about her experiences with racism in Kingman.
"Growing up as an African American, despite me being half-white, I still (face) so much racial discrimination from bigots trying to stop me from using my voice, and my trusted friends who had no idea that they were hurting me, they just thought they were telling a funny joke," she said.
Smith said she experiences Kingman's problem with using the "N-word" when she goes to school. A frequent justification she hears from white students who use the word is that they have permission from an African American friend to do so. That's no excuse, she said, because it may make other African Americans uncomfortable. She then asked the crowd to teach their children better.
"Racism in Kingman is much more deep than just black on white racism," Smith said. "It's Muslims, it's Hispanics, it's Asians, it's people you didn't even know experience discrimination. But I guarantee you every single colored person in this town has a story to tell about something that happened to them from a white man or a white woman. It's just a very big issue to me, and I really want to resolve it for the future generations of Kingman so that we can just stop having to have meetings like this."
More like this story
SUBMIT FEEDBACK
Click Below to: