Experience a "deep history" of the Hualapai Tribe

Originally Published: August 9, 2018 6 a.m.
KINGMAN – The Hualapai Department of Cultural Resources is partnering with the Kingman Center for the Arts in hosting a five-week long, "Bringing Us Together – A Cultural Art Event," Hualapai exhibit that Dawn Hubbs, program manager, described as "an adventure and experience in deep history of the Hualapai."
Marcelene Craynon, administrative assistant at the Hualapai Cultural Center, said one purpose of the exhibit is to bring together the Hualapai Tribe and the City of Kingman. She explained Kingman is considered a part of the Hualapai Tribe ancestral homeland, which at one point spanned 7 million acres from the Santa Maria River to the San Francisco Peaks, and down to the Colorado River.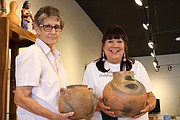 Hubbs and Craynon said the new faces turning up in Kingman can be largely unaware of the Hualapai Tribe and the influence it has had on the region, and its continued efforts to preserve culture, language and knowledge.
"I also feel that the overall non-native communities think of natives in the past, and so there's a lack of knowledge of what we still do to maintain the ongoing process and preservation of culture," Craynon said. "So in gathering together, it also tells the community that we still thrive as Native American Hualapai with our incentives to continue our preservation of language, our knowledge of plants, and our traditional ecological knowledge of the fundamentals of what makes Hualapai unique. These things are still very much a part of Hualapai knowledge that we continue with our community."
The exhibit kicks off when the gallery at 208 E. Beale St. opens at noon Friday. It will run for five weeks during the gallery's normal operating hours from 9 a.m. to 3 p.m. Tuesday through Thursday, noon to 8 p.m. Friday and 9 a.m. to 3 p.m. Saturdays.
"It comes down to a holistic viewpoint that everything is sacred, everything is important," Hubbs said. "That information gets passed through the generations of yesterday, today and tomorrow. So hopefully this show will impart that concept of continuity, preservation and partnership."
Bringing Us Together is organized as a historic chronology of the Hualapai Tribe. Upon entering the building, attendees will learn about history and archeology prior to the arrival of Europeans, with each subsequent station moving through time, with the last focusing on the tribe today. There will be art, pottery, singers, dancers, drummers and an ongoing video highlighting the importance and sacredness of water featuring a tribal elder.
The exhibit opens at noon Friday, but at 6 p.m. traditionalist Ivan Bender will perform a Blessing Ceremony, which will likely include a sage blessing and three to four songs ensuring the event is properly blessed. There will be no photography permitted during the ceremony.
Then from 9 a.m. to 2 p.m. Saturday, there will be a coil pottery demonstration where attendees will learn the process of how those pots are made from beginning to end. Hubbs and Craynon noted that Hualapai pottery has in the last 10 years been revitalized with the help of the tribe's relatives, the PaiPai of Baja, California. Exhibit-goers have the opportunity to get hands-on experience with yucca twining, pottery and pine needle medallions.
"Everything has a story here, that's what gets me," said Center for the Arts board member Pat Evans. "It's more than what you see, there is so much depth behind what you see. We're going to see a pretty dress, but there's so much meaning behind that dress. We're going to see a pretty work of art, but there's so much meaning behind it. There's a story behind it all."
More like this story
SUBMIT FEEDBACK
Click Below to: