Free pass from jail: Civil rights groups split over bail reform bill
Originally Published: August 10, 2018 6 a.m.
KINGMAN – Civil rights groups are clashing over a national bail reform bill introduced in July by Sen. Bernie Sanders, I-Vermont, fracturing the main forces behind the movement and bringing change to the way criminal defendants are released from incarceration.
More than 100 civil rights groups, including the American Civil Liberties Union, banded together recently to express concerns with the adoption of "algorithmic-based decision-making tools," also known as risk assessment, as a substitution for ending money bail.
Jeffrey Clayton, executive director of the American Bail Coalition, wants to reduce the financial burden on government and taxpayers by developing the most efficient means for pretrial release while at the same time maximizing public safety.
"At least since 1984, groups that are primarily on the left pushed for reforms," Clayton said Thursday in an interview with the Daily Miner. "'We can use the computer to determine who's in (jail) and who's out and other conditions like supervision and ankle monitors.'"
Bail reform has traditionally been regarded as a politically progressive agenda item. Sanders introduced his bill to end monetary bail, declaring that Americans "should not be in jail today because they cannot afford cash bail."
If passed, bail bonds would be replaced by risk assessment tools that have been debunked by the very groups who originally supported their use, Clayton noted.
"This is a generational shift in thinking over the last 10 years. The ACLU and all these other groups, now they've changed their mind and that's a significant shift. Obviously, they don't like the bail bond solution, but now it's murky," he said.
The Bail Reform Act of 1984 authorizes and sets procedures for a judge to release or incarcerate a defendant while waiting for trial, sentencing or appeal. It's been amended several times.
Risk assessment tools are key to bail reform. In jurisdictions where it's been enacted, a computer algorithm is used to determine whether or not a defendant charged with a crime is safe or dangerous. Depending on its mathematical conclusions, individuals are then released without posting bail while they await trial.
"The system is supposed to stop the inherent unfairness of a poor person being stuck in jail because they can't afford the money for bail, while someone wealthier can buy their way out," Clayton said. "It's also supposed to remove racial and gender bias."
Mohave County Attorney Matt Smith said Arizona has its own rules of criminal procedure as dictated by the Arizona Supreme Court.
Every person arrested is eligible for bond unless they're being charged with a capital offense or committed a crime against children, or they're otherwise considered to be a danger to the community or flight risk.
"Ninety-eight percent of offenses are available for bond under least onerous conditions," Smith said. "The presumption is someone would be released on their own recognizance, but the court looks at factors like their employment history, their family, how long they lived here as well as the seriousness of their offense and to a lesser extent the strength of the state's case."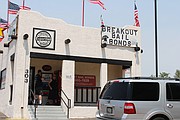 The county attorney said doesn't see Sanders' bill passing a Republican-controlled House and Senate.
Unfortunately, risk assessment tools have proven to be inaccurate in some determinations, declaring some violent offenders as safe, while deeming others with seemingly minor blemishes on their records as dangerous, Clayton explained.
"Of course, with bail removed as an option, these individuals are stuck in jail with no recourse," Clayton said. "As time has passed, it has become increasingly clear that the risk tools don't work."
ProPublica issued a report that declared one of the nation's most widely-used sentencing algorithms to be "biased against blacks." A number of independent studies have also questioned the effectiveness to reduce racial disparities.
According to the Pretrial Justice Institute, 60 percent of people in jail are awaiting trial, meaning they have not been convicted for a crime. Also, bail amounts for black men are 35 percent higher than whites, and Latinos are 19 percent higher.
ACLU and other civil rights groups have declared that the algorithm actually works against minorities.
Jesse Dobbins, owner of Breakout Bail Bonds in Kingman, said local judges look at all variables and "think outside the box." They're good about exonerating bonds, he added.
"If you've moved and didn't go to court, now you've got a failure to appear and they're going to keep you in jail and take your rights away from someone who's innocent until proven guilty," he said. "That's where the algorithm screws you. You may have moved and never got the ticket."
The contradictory views represent a major break between progressives behind bail reform, including Sanders and the Pretrial Justice Institute, and civil rights groups – also progressives – who were the beneficiaries of their efforts in the past, Clayton said.
Meanwhile, the commercial bail industry, often regarded as being aligned with conservatism, has acknowledged that reforming the bail system is necessary, but has always challenged the use of risk assessment tools to achieve that goal.
"We represent insurance companies that underwrite criminal bail bondsmen," he said of the American Bail Coalition. "We do a pretty good job and shouldn't be put out of business."
Clayton, a licensed attorney, has worked in various capacities of public policy and government relations for 15 years. Most recently, he worked as general counsel for the Professional Bail Agents of Colorado, in addition to serving clients in legal, legislative and policy matters.
More like this story
SUBMIT FEEDBACK
Click Below to:
This Week's Circulars
To view money-saving ads
For as little as $3.49*