Judge candidates appeal to voters on ethics, impartialities
Originally Published: August 10, 2018 5:59 a.m.
KINGMAN – Eric Gordon grew up in a Christian home in Jacksonville, Florida, and went to law school at a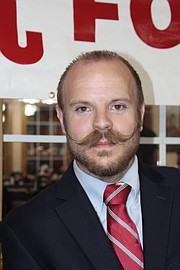 private university in Virginia, working in all facets of private practice that he says will prove invaluable as Mohave County Superior Court judge.
Gordon is among three judicial candidates vying for the Division 6 vacancy left by retiring Judge Richard Weiss, who gave a brief background of their experience and qualifications Wednesday at the Mohave Republican Forum.
Gordon, the married father of three sporting a stylish handlebar mustache, said he's always desired to become a judge, and that he'll bring integrity and lawful decision-making required for the job.
"As I look around the state and the country, I think we need people of principle and character to stand up and run for office," he told the forum audience at Golden Corral restaurant.
For at least the first few years in office, the new Division 6 judge should not handle any case with someone they represented in private practice, Gordon said.
Virginia Crews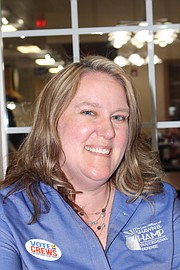 Crews came to Arizona from Dayton, Ohio, initially with her husband in the U.S. Air Force, earning her
biology degree at University of Arizona.
She returned to Ohio to be with family and received her law degree from University of Dayton where the school motto was "Learn, Lead and Serve." She came back to Arizona in 2009 and makes her home in Bullhead City, working as special trial counsel for the law offices of Shawn B. Hamp since 2015.
Crews noted that she's the only candidate with judicial experience, having been appointed Mohave County Justice of the Peace in 2013.
"I've been fair and impartial as Justice of the Peace. I went through training. I'm the only person not seeking this position to have a job or make more money. I'm doing this so I can serve people in a different way."
Lenore Knudson
Knudson, an employee of Mohave County Attorney's Office, had a previous commitment to speak at a seminar in Utah on special education, and was represented at the Forum by Mohave County Attorney Matt Smith.
"I do not want her to win," Smith said bluntly. "She knows that but asked me to speak anyway. I don't want to lose her. She's a fantastic attorney."
He said Knudson has terminated parental rights for those who needed them terminated, and reviewed Mohave Mental Health contracts to find $400,000 in overcharges that were refunded to the county.
She also recovered about $1 million in property taxes from the Aria litigation involving property on Indian land along the Colorado River.
Smith could not endorse Knudson as a judicial candidate due to ethics, so he recommended the audience ask any of the county officials who've worked with her and "they'll tell you who to vote for."
More like this story
SUBMIT FEEDBACK
Click Below to:
This Week's Circulars
To view money-saving ads
For as little as $3.49*