Ready to rumble: Rugby club is off and running in Kingman

Originally Published: August 12, 2018 6 a.m.
KINGMAN – No one had to twist Ryan Aymong's arm to get him to join the Kingman Rugby Football Club. All it took was a simple invite and now he can be found with a group of others practicing weekly at the Centennial Park soccer fields.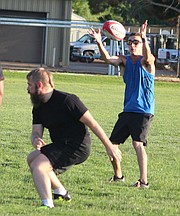 "It was a single message, 'hey, come out and play,'" Aymong said. "So I told them, 'Yeah, I'm there – totally.' This is great. I absolutely love this game."
Aymong's passion for the sport is shared by Thomas Reyes and Bob Blake, as the duo were the brains behind creating the club.
Reyes recently returned from Europe where he played rugby for the last three years. Blake, meanwhile, was making the trek to Flagstaff to compete.
With that on his mind, Reyes had a solution.
"I thought we should start a club for the northwestern side of Arizona," he said. "Bullhead, Lake Havasu and Kingman don't have anything. That was the plan. It was literally just Bob and I for a couple of weeks. Then we started talking to people."
The club is still in its early stages and Reyes has used word of mouth and Facebook to recruit more athletes. But there is larger plan in the works other than just the local rugby club.
"The main goal is for the youth program," Reyes said. "I want the kids to get into it, but we need to have a men's program with some volunteers. We need these guys to learn the sport so they can teach the sport. That's the main goal – I want the kids to play because I missed out on it."
Reyes is no stranger to building a club though, as he did so during his time in Sicily, Italy. But the passion for the sport is much more widespread there than in the United States.
Luckily, Reyes has some help in his venture.
"Parks and Recreation is all behind it," he said. "Whatever I need, they said come by and talk to them. They'll try to set up whatever they can to help us out. It's good that the city is behind us – that's what we want. We want to be part of the community."
And not just the older community as Reyes knows the best way to create a passion for the sport is to find athletes in their prime.
"I want to get connected with the high schools and see if we can manage a summer program," he said. "It will help with any sport they want to play, regardless. If they want to play soccer, the endurance in rugby is crazy. For contact, it's great for football too."
More importantly, Reyes and the other athletes want to prove there's more to rugby than many people think of the sport.
"It's definitely a physical game, but it's not just brutality," Kevin Wadley said. "I always kind of had that idea – rugby was the ultimate man's sport. It kind of is in a sense, but at the same time it's so family-oriented. It's such a community-based sport. People can really get on board with it."
Practices are held at 6:30 p.m. every Monday at the Centennial Park soccer fields. For more information, check out the club's Facebook page at www.facebook.com/kingmanbombadiers.
More like this story
SUBMIT FEEDBACK
Click Below to:
This Week's Circulars
To view money-saving ads
For as little as $3.49*