Broken windows anger vehicle owners
Law enforcement officials give out a few pointers to help prevent becoming a victim
Originally Published: August 14, 2018 6 a.m.
Waking up to a nice hot breakfast is always a great start to your day, but waking up to a broken car window can ruin your day in an instant.
Some Kingman citizens, unfortunately, have been experiencing the latter.
Lorelei Jacobson and Beth Robbins each had their rear car windows broken overnight since Thursday.
"It's absolutely ridiculous that people in this town are so bored that all they can think to do is damage other people's property," Jacobson said.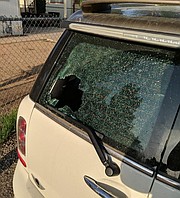 She spoke about when she was a kid in Kingman and that she didn't go around ruining other people's days. Robbins' incident occurred Sunday morning while at her boyfriend's home, located behind the McDonalds and CVS pharmacy.
"I work for my things. I got my car on my own and pay my own payments," Robbins said. "It's a shame that people have to go around and destroy things that people work hard to have."
Robbins filed a police report and is hoping to prosecute the perpetrator, if caught. She also told the Daily Miner that those who committed the crime need to pay for what they did and be taught a lesson.
Anita Mortensen, Mohave County Sheriff's Office spokeswoman, said that since May 1 MCSO has handled 10 cases with vehicle windows being damaged by rocks or shot out with BB guns.
"We are currently working on some things and comparing cases with the Kingman Police Department, who have had similar cases, to develop leads and suspects," Mortensen said.
Jennifer Sochocki, KPD spokeswoman, said similar cases appeared in the county and made their way to the Kingman area about six months ago.
Both law enforcement entities suggest citizens install motion-sensor lights outside their homes.
"Well-lit areas are easier to detect people, so leave the porch light on. Suspects who are trying to commit crimes tend to avoid those areas," Sochocki said.
Mortensen said subjects who commit these type of crimes look for easy targets and targets where they can't be easily seen. Another way to try and avoid the situation is to park vehicles off the roads and in the driveway, enclosed garages, or yards, if possible.
More like this story
SUBMIT FEEDBACK
Click Below to:
This Week's Circulars
To view money-saving ads
For as little as $3.49*