Mohave Republican Forum endorses Yee for state treasurer
Originally Published: August 14, 2018 5:59 a.m.
KINGMAN – Kimberly Yee cleared out warehouses full of unused property when she worked for Republican governors Pete Wilson and Arnold Schwarzenegger in California, part of the bureaucratic waste and fraud that burdened the Golden State with $30 billion in debt.
She saw crates of unopened furniture purchased by agencies that had to meet their annual budgets to receive the same funding.
Yee built on that fiscally conservative background during four years of working for Arizona State Treasurer Dean Martin, and that's why she said she's the best candidate for the office.
"We saw the revenue coming in and it was not matching the revenue going out," Yee said at the Aug. 8 Mohave Republican Forum. "Guess what happened? They did not heed our warning. At the time, it was Republicans telling Democrats to stop spending. It was a missed opportunity for taxpayers to reign in that spending."
Yee was endorsed by the Mohave Republican Forum following the candidate forum with opponent Jo Ann Sabbagh. She currently serves as state Senate majority leader and is chair of the Senate Ethics Committee and vice chair of the Rules Committee.
Managing $15 billion in assets, the state treasurer has to be someone the people can trust, Yee said.
"The endowment is very important for the treasurer to manage. We're talking about a big piggy bank. We shouldn't be breaking it open and raiding it for future generations," Yee said.
Richard Basinger, president of Mohave Republican Forum, said he heard comments about Yee's relatively extensive governmental experience and her work with State Treasurer Dean Martin as the main reason she was endorsed for the position.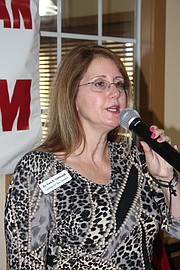 Sabbagh has never held public office, and said she does not plan to run for public office in the future. She's the only treasurer candidate with an accounting degree.
As owner of Sabbagh Tax and Accounting in Tucson, Sabbagh works with small businesses to assure tax compliance, and assists them in making prudent financial decisions.
The state treasurer's main job is to preserve and protect the assets of Arizona, she said. The second job is to serve as the chair of the Board of Investment and work with companies that manage long-term liquidity, security and yield, she said.
"When you look at these three things, you weigh the factors out. This is not money you gamble with. Once again, I would demand accountability," Sabbagh said.
It addition to Yee, the Mohave Republican Forum endorsed the following candidates by a two-thirds vote at the Aug. 8 meeting:
Michele Regan, Secretary of State; Rodney Glassman, Arizona Corporations Commission; Regina Cobb and Leo Biasiucci, District 5 State Representative; and Jen Miles, Kingman Mayor.
Candidates who are running unopposed in the Aug. 28 primary election are automatically endorsed. They are Paul Gosar, U.S. Congress; Sonny Borrelli, District 5 State Senate; and Ryan Dooley and Sue Ann Mello-Keener, Kingman City Council.
Although neither Republican candidate for Arizona governor was able to speak at the Forum, incumbent Doug Ducey was endorsed for re-election. A vote was taken regarding U.S. Senate candidates, and no endorsement was given.
More like this story
SUBMIT FEEDBACK
Click Below to: