ArtHub bids farewell to summer residents with reception, exhibit
Originally Published: August 16, 2018 6 a.m.
KINGMAN – Life in the desert has long provided inspiration for Western artists, and for the past few years, artists from across the country have come here to discover that beauty at the ArtHub, an artist-in-residence studio in the resurgent downtown business district.
Anna Fox Ryan, originally from Charlottesville, Virginia, is taking over as program director of the ArtHub from Janie Stapleton, and has spent the past year living in Kingman and getting to know the community.
"I feel there's a bubbling energy here coming alive more and more every day," Ryan said Tuesday at the ArtHub where her paintings hung on the wall and art supplies and materials filled her corner of the studio.
"I feel like there's more going on than when I arrived. I really like Kingman and what it's offered me."
The ArtHub, 402 E. Beale St., is holding a farewell reception for its summer residents from 5-8 p.m. Friday with their work to be shown in a culminating exhibit. Light refreshments will be served.
Featured artists are Alexandra Rice, a graduate of Pratt Institute in Brooklyn, New York, with a focus in graphic design; Brit Hessler, who has a fine arts degree in fiber and material studies from the School of the Art Institute of Chicago; and Jessica Dzielinski, a mixed media artist from Phoenix who holds an art degree from Arizona State University.
The ArtHub will then be closed for a month until new residents arrive in September.
Ryan, an oil painter, said she likes to draw from personal experiences, relationships and spiritual exploration.
"The main thing is the energy of changes and transition and how that is expressed through time," she said pointing to one of her paintings.
"The intention is to manifest something, bring something to life. The sentiment behind it is what it means to bring a higher message to an audience that's ready and wanting to receive it."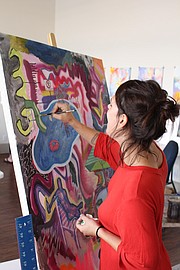 As ArtHub's new program director, Ryan said she wants to shift the focus from Saturday classes that weren't bringing in more than a handful of participants to collaborating with Kingman Center for the Arts and reaching out to schools, youth programs and adult centers.
The ArtHub will be open for First Friday with more events such as demonstration days and interactive experiences with the artists to learn some of their techniques.
"We want to highlight the creativity of artists that already exist in Kingman and highlight new creations that people want to engage in," Ryan said. "Everyone doesn't have to walk in the door and have a concrete experience. They know the arts scene is active and this is the place for everyone, all their visions, and really a place for community connection."
Hessler said there's no limit to her medium as she wove a tapestry with hand-died yarn using natural materials and dirt from the desert.
"I work a lot with symbols. Usually they come from mystical text, Polish protection symbols … my family is Polish … so the tapestry becomes a narrative and tells a story in the end," she said.
Dzielinski said the ArtHub has provided her with free time and an understanding about herself, that she loves solitude.
"This is a slow-paced town so I can really concentrate on work. It's a contemplative environment. New York would be really distracting. I've been able to really bust out a lot of work having all this time to be active and productive," the artist said.
ArtHub was developed by Doug Angle, founder of Angle Homes, who renovated the historic Central Commercial Building at his own expense and built lofts for the artists-in-residence.
Artists are selected from around the world through a competitive submission process. They live rent-free in exchange for teaching classes and holding workshops, at least in the beginning.
The commercial building once served as a bank, post office and crafts store, but had sat empty and was tarnished by pigeon droppings when Angle cleaned it up and opened ArtHub in 2015.
"We looked at other buildings, but none of them were as cool as this old building," Angle told the Daily Miner. "It's got nice architecture and lots of big windows for natural light, the kind of space artists need."
More like this story
SUBMIT FEEDBACK
Click Below to:
This Week's Circulars
To view money-saving ads
For as little as $3.49*