Kingman Area Chamber of Commerce features local artists

Originally Published: August 19, 2018 5:58 a.m.
KINGMAN – Decorating walls and rooms with art allows home and business owners to create a particular aura that fosters creativity or makes for an inviting environment, and the Kingman Area Chamber of Commerce is doing its part to help support local artists by showcasing for-sale art from the community.

"The art exhibit comes from our desire to continue to give our members additional value," said chamber CEO Mike Hindenach. "PSA is a member, and by offering up our wall space it allows us to give them an opportunity to show and possibly sell some of their art."
Paul VerBurg, artist in residence with PSA Art Awakenings Kingman, stopped by the chamber Thursday to introduce some of the featured art to the community. There are paintings and papier-mache sculptures of all sizes at a wide range of prices. There's an "Under-the-Sea" themed chair complete with buried treasure painted under the cushion, paintings of a wide variety of landscapes and peaceful cottages as well as abstract art.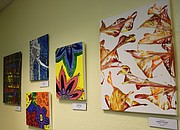 "Actually my wife and I have bought a piece," Hindenach said when asked if he had a favorite artwork.

Much of what now hangs on the walls at the chamber comes with an interesting story. VerBurg explained that one piece in particular entailed a PSA group effort where the theme was anger.
"I think it was 'releasing anger,'" VerBurg said of the group project. "Paint was flying everywhere, my boots are testament to that."
He also described the creative process behind artwork utilizing tree silhouettes.

"We cut out a canvas to do the silhouettes of trees, and then painted a story behind the trees," VerBurg said of two pieces. "So we have several different incarnations of this in the show that you'll see."
Art connoisseurs and those looking to decorate their homes with local art for the first time can enter a raffle for a chance to win "Mountain Idyll," a piece by VerBurg himself. Tickets are $5 each, or $20 for five. A reception is set for 4:30 – 6:30 p.m. Sept. 12, with the raffle drawing at 5:15 p.m.
Stop by the chamber at 3001 N. Stockton Hill Road, Suite 3, to have a look, buy a painting and support local artists.
Kingman Center for the Arts will be showcased next at the chamber after the PSA showing, which is scheduled through mid-October.
More like this story
SUBMIT FEEDBACK
Click Below to:
This Week's Circulars
To view money-saving ads
For as little as $3.49*