Butler residents concerned about health effects from contaminated soil
Originally Published: August 22, 2018 5:58 a.m.
KINGMAN – More than 100 residents of the Butler area showed up at the Eagles club Monday evening for an open house hosted by the U.S. Army Corps of Engineers to present an overview of the years-long gunnery range soil remediation project.
People checked a map to see if their home was among 67 properties that lie within the neighborhood bounded roughly by Tommie Drive to the east, Route 66 to the west, Northfield Avenue to the south and Lass Avenue to the north.
The Army Corps of Engineers, led by project manager Lu Tan, sent letters to homeowners seeking the right to enter their properties to collect soil samples that may be contaminated with clay pigeons and lead shot debris left from World War II gunnery training ranges.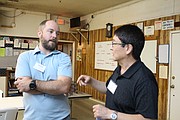 "I'm very concerned about my health," said Margarita Temple, who lives on Devlin Avenue. "I'm concerned about my health and my neighbors and what could happen to me in the future. What kind of investigation and removal?"
After right of entry is gained to the subject parcels and soil samples have been collected, the soil will be analyzed for the presence of polycyclic aromatic hydrocarbons, or PAHs, Tan said.
PAHs occur naturally in coal, crude oil and diesel fuel and may be harmful to humans if inhaled, swallowed or contacted with skin. No cases of cancer from PAHs in Butler have been reported, Tan noted.
The open house allowed Tan and his U.S. Army Corps of Engineers colleagues and contractors to meet residents and answer questions about the investigation.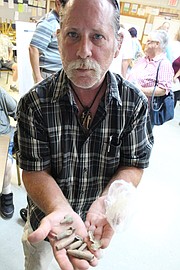 Several poster boards were set up around the Eagles club with information on the gunnery site background, the 15 skeet ranges known as MRS03 that have been identified for the project, the 2013-2014 "time critical" removal of dirt from 55 properties, examples of findings from previous investigations and the risk of exposure and health effects from PAHs.
"I know if I dig around my two-car garage, I'll strike BBs and clay pigeons, not real clay pigeons," Ryan Avenue resident Dave Duncan said. "I have three dogs and they're running around in the yard all the time. I'm afraid one of these days they'll dig up something they're not supposed to."
Tan said it will take a while before any remediation work is actually performed on anyone's property, at least two years. After the soil samples are collected and studied, the U.S. Army Corps of Engineers has to go to Congress for approval of funding. He had no estimate for the cost.
The upside is a lot of Butler backyards will be cleared of trash and debris such as weeds, old car tires and discarded mattresses that have piled up over the years, all at the government's expense, Tan said.
"A lot of junk," he said. "After we cleaned up (in 2013-2014), it's very nice. You can see the properties. You can tell the ones we did."
More like this story
SUBMIT FEEDBACK
Click Below to: