BLM intent on pleasing public with travel plan for public trails
Originally Published: August 23, 2018 6 a.m.
KINGMAN – Having witnessed environmental groups shutting down public lands for recreational activity in California, Vance Wedeking doesn't want to see the same thing happen here.
That's why the four-year Kingman resident showed up at Hualapai Elementary School Tuesday for an informational open house on the BLM's travel management plan and environmental assessment for motorized and non-motorized uses on public land.
"It's the BLM," Wedeking said as he studied maps of a dozen areas covered by the travel management plan. "You've got to take them with a grain of salt. I just want to see what they're up to, keep an eye on them, because you never know what the federal government's going to do."
About 150 people attended the Bureau of Land Management's open house in Kingman, with another scheduled tonight in Bullhead City and Thursday in Wikieup. The public comment period ends Sept. 18.
The travel management plan establishes a network of roads for travel and transportation for both motorized and non-motorized uses. It's necessary for designating and providing appropriate access to public lands for a variety of uses.
The area includes Bagdad, Black Mountains, Cerbat Mountains, Crozier, Goodwin Mesa, Hualapai Mountains, Music Mountains and Poachies. It also includes the White Hills Travel Management area encompassing Kingman, Bullhead City, Golden Valley, Chloride, Wikieup, Bagdad, Meadview, Dolan Springs and White Hills.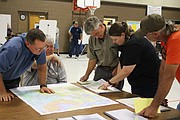 Amanda Dodson, BLM's field office manager in Kingman, said people care about their public lands and are concerned about route closures.
"I'm really excited to have such a huge turnout," she said. "It's good for people to meet us. We're here to serve the public. That's our role at the BLM, and this is a topic that people care a lot about – access to public lands and recreation."
Gary Williams, vice president of the Cerbat Ridge Runners, gave BLM officials an "earful" on their travel management plan.
"You want to close these trails if they're not used, but you can't use them if you don't where they're at," he said. "There's no map."
Williams said he just returned from the north rim of the Grand Canyon, and they had maps. He doesn't want to spend his recreational dollars out of town, but if the BLM makes it hard to find trails, he'll take his business somewhere else. And so will others.
"This is big business out here," he said. "I've got an $18,000 machine and they don't have any roads. I would really like to see some maps. It's the same thing all the time. 'We don't have any money.'"
Mohave County Supervisor Jean Bishop said she's opposed to closing any roads or trails on BLM land, and she's concerned about new restrictions the public may face in accessing those lands.
"The legal right to public travel, whether it be for tourism, recreation, ranching or mining, should be kept open unless there is a compelling reason for closure and as such must preserve legal access to private property and ranching allotments," Bishop said.
Valerie Gohlke, spokeswoman for the Kingman BLM field office, said the BLM began conducting route inventories in the travel plan area in 2004 using maps with aerial photography and satellite images. Field crews used four-wheel drive vehicles, motorcycles, horses, mountain bikes and their own feet to travel "primitive roads" to collect data, she said.
The BLM also worked with local off-road clubs to gather GPS data of the routes they use so they can be included in the plan.
"The local OHV clubs have been instrumental in helping the BLM to not only identify routes, but identify how much and what use is occurring on a given route," Gohlke said in an email to the Daily Miner.
"As I was not around during the initial phases of inventory, I cannot say as to how many clubs in total assisted with inventory. I have worked directly with the Bullhead 4-Wheelers and Walapai 4-Wheelers to obtain data on the routes that they use."
The BLM encourages the public to use this scoping period to identify issues that influence the environmental analyses and provide comments prior to issuing decisions. The public comment period runs from Aug. 20 to Sept. 18. Comments can be submitted online at www.blm.gov.
More like this story
SUBMIT FEEDBACK
Click Below to: