Mohave County Fair looking for pageant contestants

Originally Published: August 23, 2018 6 a.m.
KINGMAN – Are you full of poise, style and grace? Well, you can be the next Miss Mohave County Fair.
The county fair is just around the corner and the deadline to register for the pageant is approaching quickly. The deadline is Aug. 31 and a $40 non-refundable registration fee is required. The pageant consists of four age divisions: Young Miss 5-8, Junior Miss 9-12, Teen Miss 13-16 and Miss 17-22.
Document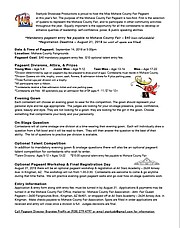 The pageant has only been part of the fair for two years and this year Starkydz Showcase Productions will be hosting it. Brandee Proffit is the pageant director this year and has been directing pageants on the West Coast and Midwest since 2007.
Each division will compete in two competitions, the evening gown and onstage question. If a contestant wishes to showcase a special talent of theirs, then there is an optional talent competition with a $10 entry fee.
Questions asked to the contestants will be relevant depending on their age group. For the little ones questions can include: Who is your favorite person and why? Or, if you could be peanut butter and jelly, which would you be and why?
For the teens and young women questions range from who would you add to Mount Rushmore? and what has been the biggest event in your life and why is it special to you?
Proffit says that it's easy to get the little ones to join the pageant but more difficult for the teens and young women to join.
"They might be nervous, think experience is needed but it's a laid back pageant," Proffit said.
All that is needed is knowing how to walk with grace, smile and poise. As for attire, only one outfit is needed which is an evening gown, and can be a prom dress or homecoming dress.
Twelve contestants are allowed per age division, but Proffit says that numbers are really low this year in registered contestants.
Document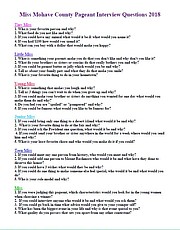 Applications can be downloaded at www.starkydz.com or may be picked up at All Starz Academy, 2634 Airway Ave. Application must be turned in by Aug. 31 with registration fee. For more information, contact Brandee Proffit at 928-279-4797.
More like this story
SUBMIT FEEDBACK
Click Below to: