At age 18, real estate agent Brayson Brock embraces challenging career
Originally Published: August 24, 2018 6 a.m.
KINGMAN – Even as a teenager watching "House Hunters" with his mom, Brayson Brock was never so naïve as to believe the reality TV show truly depicted the glamorous career of a real estate agent, one filled with drama and excitement and easy money to be made.
There's a ton of "nitty-gritty work" that goes on behind the scenes that people don't realize, the 18-year-old go-getter said.
"You really have to put in the effort. You just don't sit here and get paid," Brock said at his temporary office at Keller Williams Arizona Living Realty.
Brock, who turned 18 in July, may be the youngest agent to receive his real estate license in Mohave County, certainly the youngest of broker Scott Lander's current team at Keller Williams.
Brock hadn't closed a transaction in his first three weeks on the job, but he's not discouraged. He's shown a couple of properties and had a couple coming from Bullhead City to meet with him Wednesday.
He's got five people who want to buy an older mobile home near Mohave Community College, but it's difficult to find a bank that will finance it, Brock noted.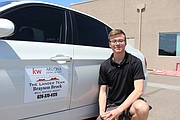 His biggest roadblock to making a sale is the age factor, he admits. His face has yet to clear of acne, and people are hesitant to place their faith in someone with little or no professional experience.
"Yesterday I showed a property on Suffolk (Avenue) to a guy and he said, 'You sounded older on the phone,'" Brock said. "I told him I'm on the Lander Team and Scott Lander's been in business for a long time. He has this team set up like none other. We're one of the best teams in the whole United States. I've got guys with plenty of experience and I'm going to learn from them. I'm not going in alone."
A graduate of Kingman Academy High School, Brock went to real estate school in Glendale and spent his 18th birthday in class. He absorbed a lot of information from 600 pages of reading, and passed the national and state examinations on his first attempt.
Among his favorite subjects in school was business economics, which was added as a graduation requirement when he entered high school.
"That class I loved. You learned about the market, scarcity, and we did current events on the market," he said.
He was accepted into several colleges, including some in France, England and Russia, and plans to pursue a degree after he builds up savings through his real estate career. A few Keller Williams agents are making six-figure salaries from their commissions, including one woman who's only been there two years, Brock mentioned.
Brock said he's always been interested in real estate. Along with watching "House Hunters" with his mother, Michelle, he knew people like Wesley Hassel of the Hassel Team at Keller Williams and Becca Johnson of the Queen Team. They were parents of his friends.
"So being surrounded by all of this and enjoying business classes in school helped me decide on a career in real estate. I have plenty of people to thank for helping me get started, but the biggest helpers are my mom and dad who paid for my schooling and my father, who knows Scott Lander, and Steve Petrauschke helped me get connected with the Lander Team to get an interview set up," Brock said.
The young man plans to save his money – after he treats himself with his first commission – and invest some of it in real estate. Eventually he wants to have his own real estate team and investment company.
"So from here I keep pressing, working hard and seeing where this amazing career takes me," Brock said.
He's considered going to college for a teaching degree, having mentored elementary-grade students at Kingman Academy for three hours a day and loving every minute of it.
"It was great being able to see where our future is and it's definitely in these kids," Brock said. "Still plenty of time for me to decide and things may change, but I know for sure that real estate will be a lifelong career as well for me."
More like this story
SUBMIT FEEDBACK
Click Below to: