History in the making: Bulldogs beat Sedona Red Rock for first 2-0 start in 21 years

Originally Published: August 25, 2018 1:36 p.m.
KINGMAN – The Kingman High School football team was all smiles Friday night following a 30-8 win over Sedona Red Rock at KHS. And the Bulldogs had every right to celebrate – accomplishing something that hadn't been done in 21 years.
"It feels great to be on a winning team that started the season 2-0," said Kingman's Powers Corbin. "It's great to have God on our side and we're going to keep it rolling."
Photo Gallery
Football: Kingman vs. Sedona Red Rock - Aug. 24, 2018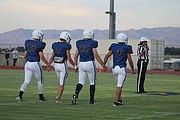 The Kingman High School football team not only picked up a 30-8 win over Sedona Red Rock Friday night, but the victory also gave the Bulldogs a 2-0 start for the first time in 21 years. Photos by Beau Bearden.
Corbin and his teammates weren't even alive when the 1997 Bulldogs started off the year at 2-0. More importantly, Kingman has already matched its win total from a season ago.
"I don't care who you played, when you do something that someone hasn't done for two decades – that's special," said Bulldogs head coach Cam Wierson. "And we did it, these kids did it."
It was far from easy though.
Kingman battled to an 8-8 halftime tie, but proved it was in better shape by outscoring the Scorpions 22-0 in the second half.
"These kids worked their butts off in the last two years in the offseason, in the weight room," Wierson said. "We are the most well-conditioned football team in Arizona. I believe that."
Austin Dias started the second-half surge with a 16-yard touchdown run with 3:31 remaining in the third quarter. It was a dandy of a run as Dias reversed field and shed a number of would-be tacklers to give Kingman a 14-8 advantage it would never surrender.
Darrell Mitchell tacked on another six points with a 1-yard run early in the fourth quarter and Gavin Randall followed with the two-point conversion. Randall then put the icing on the cake with an 8-yard scamper with 2:15 to play and the rest is history.
"They are learning what consistent hard work does – it pays off," Wierson said. "This is a special moment for these kids."
It could have easily gone the other way for the Bulldogs as they didn't have a normal week.
"We got hit with the worse flu bug I've ever seen a football team get hit with," Wierson said. "We didn't practice Monday and Tuesday. Then we had a sloppy one Wednesday with about half our kids out. And sloppy is a nice word for Thursday's practice."
But when game time arrived, the Bulldogs dug deep and played a great second half of football. One player in particular shined throughout the whole game as Corbin energized the defense with 10 solo tackles, two sacks, a fumble recovery and nine assisted tackles.
Wierson wasn't surprised though, as Corbin's job was to set up in the middle of the field and just play football. He did just that, but was quick to make it about the team.
"I'm playing for the guy next to me every play of the game," Corbin said. "Just trying to get the ball back for our offense so they can keep it rolling."
Dias once again led Kingman's offense with 17 carries for 89 yards and a touchdown. Mitchell rushed for two scores, while Randall finished with 46 yards on the ground and a touchdown.
The Bulldogs have a bye week and then make the trip to Phoenix Sept. 7 for a contest at Valley Lutheran.
"There's confidence and then there's genuine confidence," Wierson said. "You don't gain genuine confidence until you beat someone that you had a ton of doubt that you could or couldn't do it. Our next game will be a genuinely confident game if we win."
More like this story
SUBMIT FEEDBACK
Click Below to: