A community effort spearheaded by Golden Valley resident Carla Lambert works to make the drive up Union Pass safer for travelers

Originally Published: August 26, 2018 6 a.m.
Workers, tourists and walkers climbing the hill to Union Pass from Bullhead City toward Kingman know all too well the dangers of the trip, from overheated vehicles to dehydration, the Arizona heat can take a toll on travelers. But a growing community effort is working to mitigate that problem by providing jugs of water along Highway 68 for those in need.
Golden Valley resident Carla Lambert says the project started about four years ago thanks to the efforts of a coworker, Kim Hunter. Lambert, who has now taken over placing the jugs, got involved after seeing people struggle with the pass while going to and from work.
"Over the 25 years I've lived in Golden Valley going back and forth to Laughlin working, I've seen so many cars along the side of the road burn up," she said, which got her thinking. "There's got to be a way for us to get something on the mountain so they don't have to wait until their cars burn up before the fire department gets there."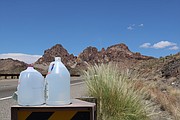 Without water, she said an overheated car on fire can cause brush fires, another danger she hopes is mitigated by offering water.
In previous years, 400 to 500 jugs have been placed along the highway. But this year the project has grown substantially. Lambert says more than 1,300 water jugs have been placed since the end of April.
"It's just blossomed over the years," she said.
Local businesses help out with the effort by giving jugs to Lambert, and the community has now begun to put some out on their own. She's placed large garbage cans at the end of her street and by her house in which people can drop off empty jugs.
"About every three days I go by and that one is overflowing and I take it out, dump it in my car, fill them and then put them out," Lambert said.
Before she fills the jugs from her well at home, Lambert makes sure to wash them thoroughly, seeing as all manner of containers are used including old candy jars, iced tea jugs, and even 2 liters. She'll take "anything that can hold water."
The water jugs are more often than not utilized by motorists needing to cool of their engines, but those walking or biking the pass are free to take a drink as well. Because she fills the jugs from her well at home, Lambert says they're safe to drink. It may not be the coolest drink of water, seeing as the jugs are out in the hot sun all day, but would certainly be a refreshing and even lifesaving treat for someone approaching dehydration.
"It's for anybody who needs it," she said. "Hitchhikers, bikers, walkers, homeless people in the desert if they need it for drinking or cooking or washing, it's all drinkable water because I fill it out of my well at home."
Putting out water along the 12-mile stretch is no easy task, which is why Lambert makes the trip after she gets off work in the early morning hours to avoid the heat of the day. She takes about an hour to drop them along the roadside on her way home from work, and at the same time collects the empties for reuse.
The more water along the roadside, the better. To that end, Lambert welcomes anyone wanting to lend a hand to do so by giving her a call at 928-279-4954. All she asks is that those using the jugs place the cap back on before being hung on a reflector so they can be collected and refilled.
Even though it can be intense work, Lambert says she will continue to provide the service.
"So it's just something that got started by a fluke kind of, and it's just blossomed into more," Lambert said. "Well, now that I've started doing it, it's pretty hard to stop."
More like this story
SUBMIT FEEDBACK
Click Below to:
This Week's Circulars
To view money-saving ads
For as little as $3.49*