Golden Valley angler gets his wish

Originally Published: August 28, 2018 6 a.m.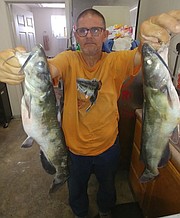 We all have our dreams and wishes on what we would like to do in our lives. Some of them are fairly complex, but for some people, their dream is simple.
And for Golden Valley resident Ron Potratz, his wish was to go fishing.
This story starts when I got a call from Nora Morrison, who lives in Golden Valley.
Morrison told me about her neighbor, Ron, who lives next door to her and has been a loyal and good friend for many years.
She told me Potratz helps her every day on her small farm in the valley, feeding and taking care of her animals. She said all Potratz talks about is how he wants to go fishing. Unfortunately, Ron hasn't been able to go on a fishing trip for the past seven years.
Ron lives alone, and has no relatives or friends other than Nora. His parents have passed away, and he cannot drive. Morrison takes him everywhere he needs to go, including the grocery store and to pay his bills. Ron has four rescue dogs that to him are his family, and he loves old westerns, Dr. Who and John Wayne.
Morrison said she knows nothing about fishing, and she wanted to know if she could pay me to take him fishing.
I told her I would let her know as I had some "issues" I would need to work through before we could do a trip. I had really not planned to do anymore fishing this summer. I told Morrison if I could arrange a trip, there would not be any charge. There are times in life where you do things not for money, but to help out your fellow man.
I do have a Skeeter bass boat that I could have used on a trip, but it is not really set up for the night fishing I normally do.
So I called my friend Ryan Asplin, who does a lot of nighttime striper fishing and has an awesome Lund boat that is roomy enough for three or four people to fish.
When I explained the situation to Ryan, he immediately agreed we could do the trip and utilize his boat.
With the boat issue resolved, I called Morrison and told her the trip was on.
I first checked the long-range weather, and it looked good for day we decided we would go.
I know Ryan's boat is capable of handling any rough water we might encounter, IF a thunderstorm would pop up.
I told Morrison all she needed to do was to get Ron a fishing license, some bait and dry ice, and Ryan and I would take care of the rest.
Unfortunately, the trip started off with a problem. Ryan found a leak in his boat's power steering unit that needed to be repaired before we could take Ron on his long awaited trip. I made a call to Kenny at Kingman Marine where I explained the urgency of this trip. In no time the boat was repaired and we were ready to go.
Ryan and I met Nora and Ron at Smith's where we loaded up and headed for Meadview, with Ryan's boat in tow.
At the Meadview house, I got Ron fixed up with a couple of rods and reels, and Ryan got the bait and dry ice situation handled. We got the personal flotation devices properly sized for all of us and headed to the Crow's Nest for dinner.
I checked the weather again and there was nothing forecasted as far as storms were concerned, and the winds weren't supposed to be bad.
At the lake, we found there was a little wind and the lake was fairly flat. I thought it should be a good night to fish.
The only issue I could think of that might be problematic was the moon. It was going to be full, and normally the fishing isn't nearly as good as during the dark moon phase.
While heading to the spot we were going to fish, I learned this was the first time Ron had been on Lake Mead, and he was excited about trying to catch some stripers and catfish.
The ride to Schleeter Rock was smooth and in Ryan's boat, which is powered by a 200 horsepower Mercury engine, we arrived there in record time.
When we set up and started to fish, the wind suddenly and without warning started to blow hard out of the west. (So much for the accurate weather report.)
Even in Ryan's big boat, we had a rough time trying to fish, the waves made the boat jump like a hula girl at a luau and spray occasionally came over the side and into the boat.
We did manage to catch a few fish. Ron got a big channel cat, the first of several he would catch that night. He also caught a couple of nice stripers.
The wind finally subsided and we all started to catch a few fish. The bite wasn't as good as it has been earlier this summer, but before we quit we managed to put a number of fish in the boat.
All total I think we caught 35. Our catch included two small yellow cats that we released along with 11 catfish and 22 stripers.
Back at the fishing cabin, I filleted the fish and Ryan packed the fillets in bags and on ice for Ron to take home.
Ron said he had a good time and would like to go again.
He would like to make a friend or two in the Golden Valley area that he could go fish with more often.
Ryan and I will be taking him out again next summer, as he is a nice, easy going guy, who truly enjoys fishing!
If you would like to make a new fishing buddy, let me know and we can arrange for you to meet Nora and Ron.
More like this story
SUBMIT FEEDBACK
Click Below to:
This Week's Circulars
To view money-saving ads
For as little as $3.49*