Prep Volleyball: Lady Vols kick off season with 3-0 win over Kingman High

Originally Published: August 29, 2018 1:40 p.m.
KINGMAN – The Lee Williams High School volleyball team didn't disappoint in head coach Riley Blake's first match at the helm. With the support of a raucous student section behind them, the Lady Vols took care of business in a 3-0 victory (25-11, 25-14, 25-6) over Kingman High Tuesday evening at LWHS.
Photo Gallery
Volleyball: Kingman at Lee Williams - Aug. 28, 2018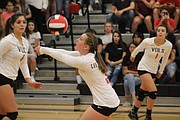 The Lee Williams High School volleyball team opened its season Tuesday with a 3-0 sweep of Kingman High at LWHS. Photos by Beau Bearden.
"It just really connected for us," Blake said. "The girls came out, they wanted it and they knew exactly what they wanted to do – and they did it."
Lee Williams (1-0) jumped out to large leads in each set to deal the Lady Bulldogs (0-2) another loss after they opened the season with a 3-0 setback to Ash Fork/Seligman Monday night.
However, Blake did notice that both squads made vast improvements from a scrimmage Thursday at KHS.
"I'm actually impressed – compared to the scrimmage to now, I already saw improvement on both sides," Blake said. "Our big goal was to get that serve over. We missed some, but overall it was a lot better. I thought both teams did great on serving."
The Lady Vols set the tone quickly by taking at least a six-point lead in each set. Kingman tried to stay within striking distance and even forced Blake to call timeout in the second set when the Lady Bulldogs inched within six points, 16-10.
Kingman couldn't find a way to get any closer, but first-year head coach Sheila Bealer knows the squad is taking steps in the right direction.
"We've really been working as a team this year to dig ourselves out of those holes," she said. "And obviously we still have some ways to go with that. But I'm really proud of the progress they've made. I truly believe in these girls and I know that if we keep working on this, we're going to get it and we'll see some wins this season."
The Lady Bulldogs were up against a lot of talent on the other side of the net though. Lee Williams' Kalyse Whitehead finished with a team-high three blocks (two assisted, one solo) and notched three kills, while Ashley Sahawneh added two assisted blocks and Eliza Telford had four kills and one assisted block.
"Our middles are phenomenal," Blake said. "They get up there every time. That's their goal – get up there and be a brick wall. They put that into play and it helped us out."
Lorelei Fernandez was also instrumental for the Lady Vols with five kills and five digs.
Lee Williams is back in action at 6 p.m. Thursday as they host River Valley (0-1). Kingman, meanwhile, looks for its first win of the season Thursday at Mohave (1-0).
"We worked better as team tonight," Bealer said. "We struggled in a few areas with coverage, but we also did better in a few areas too. We worked on being bigger and being stronger at the net, and I saw that tonight."
More like this story
SUBMIT FEEDBACK
Click Below to:
This Week's Circulars
To view money-saving ads
For as little as $3.49*