Hinckley, Noble promote Kingman at European Route 66 Festival
Originally Published: August 30, 2018 5:58 a.m.
KINGMAN – The second annual European Route 66 Festival, held Aug. 10-12 in Zlin, Czech Republic, provided plenty of promotional and marketing opportunities for businesses and communities along the iconic highway, said Jim Hinckley, Route 66 author and historian who spoke at the festival's opening ceremony.
People came from more than a dozen countries, and there was extensive media coverage of the festival, Hinckley said.
He conducted numerous meetings and planning sessions with tour company owners, Route 66 association, media and project development coordinators.
"I think it was very productive," Hinckley said. "The festival was the key component of my trip, but I had meetings with tour companies while in Europe to find out what their needs are and building personalized relationships."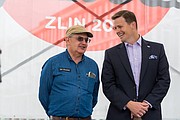 The City of Kingman negotiated with festival organizers in May to set up a table at the entrance to the festival with the Route 66 shield on the floor and the City's decal on the window.
Josh Noble, tourism director for Kingman, displayed promotional materials from communities and businesses along Route 66.
"We're excited about the friendly atmosphere that ruled all weekend," said Zdenek Jurasek, president of Czech Route 66 Association and organizer of the festival. "It was exactly what we know from American Route 66, and it's great that we managed to transfer it, at least for a while to our parts."
The first European Route 66 Festival was held in Ofterdingen, Germany, and the tentative location for 2019 is the Netherlands.
"We treated (Route 66) as a singular community and we worked together," Hinckley said. "We had a motel owner from Carthage, Missouri, handing out materials for Arizona motels."
Looking ahead, Hinckley said arrangements are being finalized for him to attend several events linked to participation in the European Route 66 Festival, including a speaking engagement in Rancho Cucamonga, California; Cuba Fest in Cuba, Missouri; and Miles of Possibility Conference in Carlinville, Illinois.
More like this story
SUBMIT FEEDBACK
Click Below to: