Cobb, Biasiucci advance as GOP candidates for state representative
Originally Published: August 31, 2018 5:56 a.m.
KINGMAN – Leo Biasiucci was embroiled in a little less controversy than a couple of his Republican adversaries for Arizona Legislative District 5 representative, and that may have helped him prevail in Tuesday's primary election.
Incumbent Regina Cobb, R-Kingman, and Biasiucci, who runs a traffic school business with his family in Lake Havasu City, were the top two vote-getters to advance to November's general election, where they will contend with Democrat Mary McCord Robinson.
Cobb led all Republican candidates with 14,968 votes, while Biasiucci took in 9,705 votes, according to Mohave County Elections.
Incumbent Paul Mosley, R-Lake Havasu City, who got caught speeding and bragged about going faster to the officer in a video that went viral, finished third with 8,668 votes. Jennifer Jones-Esposito, who battled the Mohave County Attorney over a dog license charge and spewed forth vitriolic comments on social media, pulled 5,760 votes.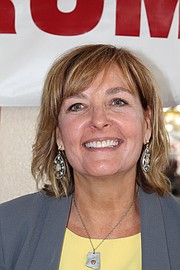 McCord Robinson ran unopposed in the Democratic primary and picked up 6,744 votes.
Biasiucci said it's "truly exciting" to be making his foray into politics.
"I think a big part was No. 1 being a team player, being able to work with Gina (Cobb) and Sonny (Borelli)," he said Wednesday in an interview with the Daily Miner. "And I'm from here, born and raised in Mohave County, and I really want to bring this back to the people. It's the state representative and it's exciting to have the opportunity to communicate with people so they understand everything."
People are tired of the "groomed politician," which is one of the reasons Donald Trump was elected president, Biasiucci said.
His goal is to follow the same Republican policies of keeping taxes low and making sure government "stays out of our business and lets us do what we do best."
Only three of Arizona's state representatives come from Mohave County, so it's important to fight for rural Arizona, preserve water rights and return state "sweeps" of Highway User Revenue Funds (HURF) and Payment in Lieu of Taxes (PILT) to the counties, he said.
Biasiucci stayed positive in his primary campaign, focusing on his agenda rather than slinging mud at his opponents.
"I think people chose character. It says a lot when you stay positive, stay on the agenda," he said.
Cobb, a state representative for four years, said voters recognized the work she's put in over that time. She was instrumental in appropriating $100,000 of state funding to study the rate of groundwater depletion in northwest Arizona, including the Hualapai Valley Basin. Water is her No. 1 issue, especially with the drought contingency plan.
She's also concerned about "unfunded mandates" from a comprehensive bill to fight the state's opioid epidemic. There's fear in the medical field about limiting prescriptions for opioid-based pain medication, with doctors and pharmacists erring on the side of conservatism, she said.
"People know what I've been doing with water and, of course, the reversal of county fund shifts," Cobb said. "Anytime a county supervisor calls and needs help, I'm there. Everybody in the county … (Recorder) Kristi Blair, (Treasurer) Cindy Cox … I'm there if I can help. If it's out of my realm, I try to get them to the right person and that makes a difference."
More like this story
SUBMIT FEEDBACK
Click Below to: