Vols, Bulldogs and Tigers swim into the season

Originally Published: August 31, 2018 6:08 p.m.
KINGMAN – Katie Niskanen has only been swimming since she was in seventh grade, but that didn't stop the Kingman Academy High School freshman from putting on a show.
Photo Gallery
HS Swim Meet at Centennial Pool - Aug. 30, 2018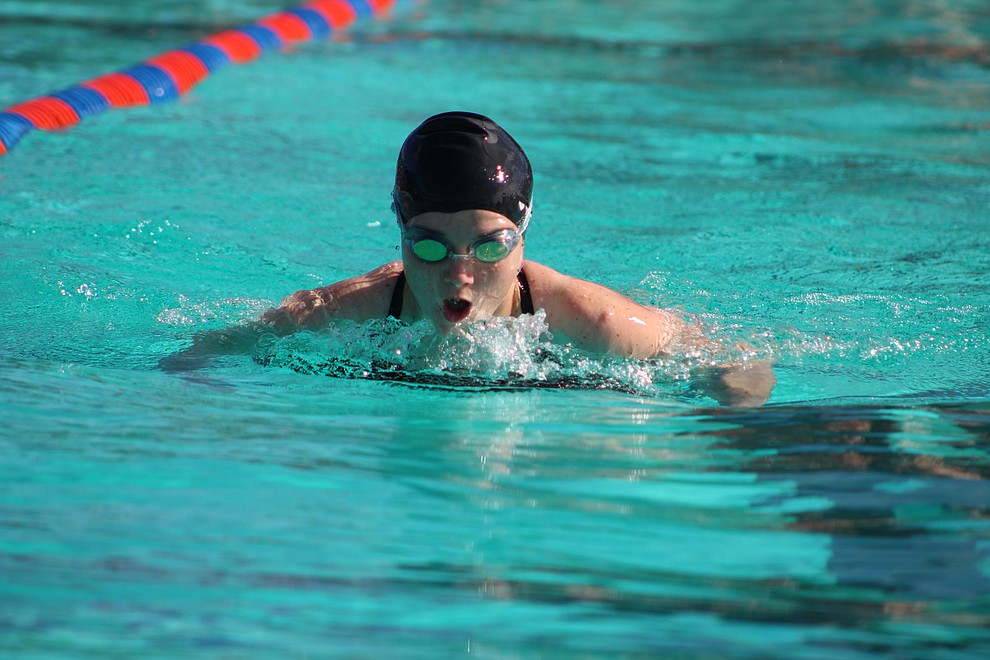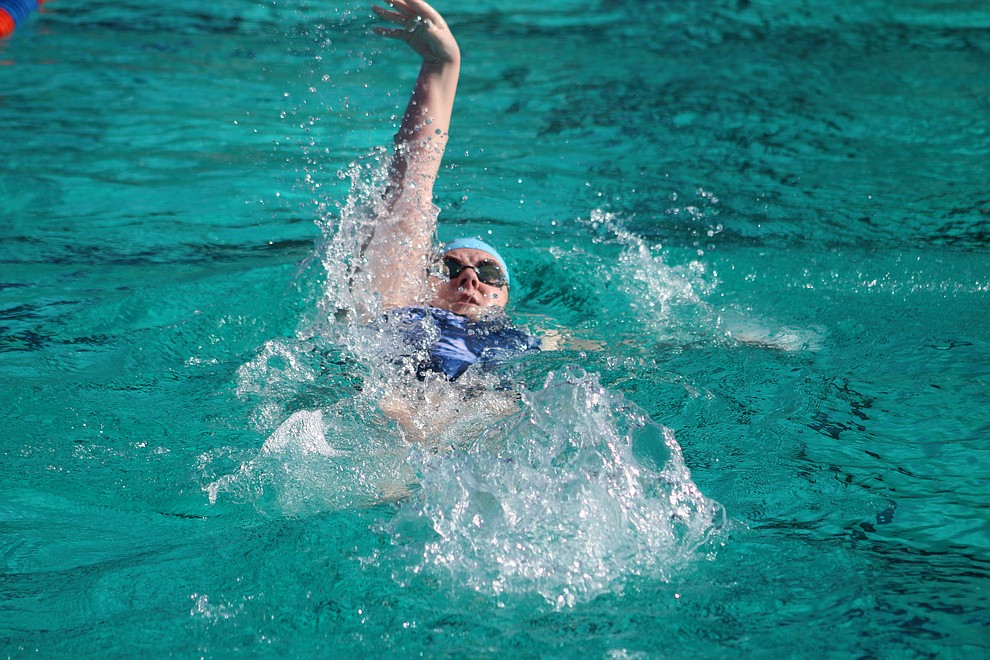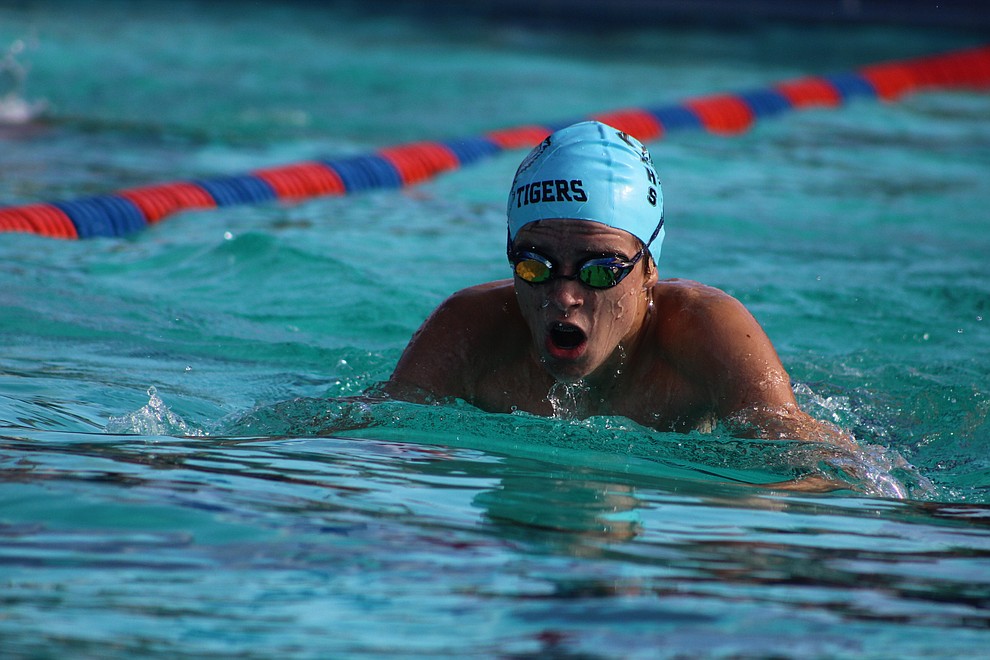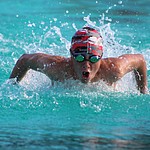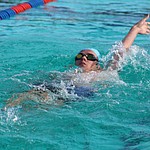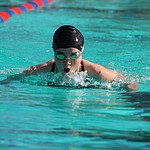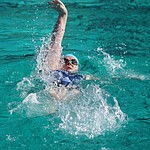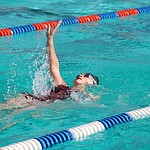 Niskanen notched two first-place finishes Thursday during her dual meet debut at Centennial Pool
"I was really slow at first and I joined the middle school team when I was in seventh grade and I barely knew how to swim," Niskanen said. "Then I started doing Swim Neptune with coach (Teri Rose) and I got much better."
Niskanen is far from slow now as she swam a 1:21.75 in the 100-yard butterfly to take first and then followed it up with another first-place finish in the 500 freestyle at 7:23.96.
But she was quick to admit there was some anxiousness.
"At first I was nervous, but once I got in the water I wasn't anymore," Niskanen said.
Kingman Academy's Callie Wright also notched a pair of first-place finishes – swimming a 1:16.01 in the 100 freestyle and a 3:04.13 in the 200 individual medley.
The 200 IM was a close call for Wright as Kofa's Victoria Nunez finished at 3:04.60 for second.
"I felt like it was a pretty good swim," Wright said. "The girl next to me gave me a run for my money, but in the end I wanted it more."
Lee Williams' Beauen Bratley was the other local athlete to tally first place in two events. Bratley took first in the 200 IM at 2:37.31 and then swam a 1:09.30 for first in the 100 butterfly.
"I was very excited to see how well the swimmers accepted their personal challenges," said Vols head coach Caleb Presnal. "As a team, we targeted our weakest strokes, and our new swimmers showed a lot of race enthusiasm."
Lee Williams' Arin Puaa (100 backstroke at 1:39.59), Kingman Academy's Kaden Bean (100 breaststroke at 1:16.62), and Kingman High's Christine McIver (200 freestyle at 3:06.14) rounded out the other first-place finishers from the area high schools.
"It's really nice to get in the pool and start competing," McIver said. "You see where you're at from the year before. The initial part is a little nerve wracking, but it's nice to be back in the water."
McIver added a third-place finish in the 50 free at 33.67 and also teamed up with Cora Jessup, Alicia Carter and Angelina Kelly to take second in the 200 free relay.
Kelly felt the same way as her teammate McIver – saying she's nervous until she hits the water and then tells herself, "I got this."
Kelly proved that motto was true in the 50 free by narrowly getting by McIver for second at 32.66 and also adding a third-place finish in the 100 breaststroke at 1:36.46.
Lee Williams' Amelia Brackett, meanwhile, joined Jocelyn Graffius, Katherine Cornelsen and Elizabeth Hall to take second in the 200 medley relay at 2:44.22.
It was a good finish for the group of Lady Vols considering a minor equipment malfunction.
"In my first event today, my goggles fell off," Brackett said. "But swim teaches us to keep going, even when our nerves come get us."
Brackett overcame her nerves later in the day to take second in the 500 free (7:25.38) and finished fourth in the 100 breaststroke at 1:45.50.
William Rogers and his Vols teammates started off the dual meet with a third-place finish in the 200 medley relay (2:16.25). Individually, Rogers was fourth in both the 200 IM (2:58.00) and 100 butterfly (1:17.73).
"It's very exciting to meet swimmers that I'll be facing for the whole year and to have a starting point for the whole year," Rogers said.
Other top performers included Kingman Academy's James Scholl, who finished second in the 200 IM (2:40.80) and third in 100 butterfly at 1:15.23. For the Lady Tigers, Margret Scholl swam a 1:40.92 to take second in the 100 backstroke and a 3:10.99 for third in 200 freestyle.
Lee Williams, Kingman and Kingman Academy return to the pool at 4 p.m. Thursday in Lake Havasu.
"Kingman High School loved hosting this meet," said Bulldogs head coach Jerusha Presnal. "It was great having the four teams come together for our first meet of the season. I am proud of all my swimmers and the effort and drive that they have. I expect to see all my swimmers striving to drop personal times."
More like this story
SUBMIT FEEDBACK
Click Below to: