Coping with Long-Term Pain
INSPIREhealth
Kingman Regional Medical Center Staff
Originally Published: December 4, 2018 11 a.m.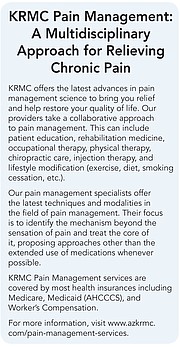 September is Pain Awareness Month — a time to acknowledge the millions of Americans who suffer from long-term or "chronic" pain. It is also important to realize the personal and societal implications of this problem and what can be done to help.
Pain is an inevitable part of human life. Beneath your skin and within your organs, you have receptor nerve cells that send pain signals up the spinal cord to the brain. Often, your body uses pain as a tool to indicate a problem, protect from injury, and keep you in general good health.
When pain goes on longer than it should, it can be classified as chronic pain. Some doctors and medical professionals use three months as a benchmark. In other cases, it is simply when pain is no longer normal for a certain condition or healing period (like after a surgery).
Roughly 100 million Americans suffer from chronic pain. This outnumbers those who have diabetes, heart disease, and cancer combined.
Some of the most common types of chronic pain include:
• Back pain
• Headaches
• Joint pain (including from arthritis)
• Pain following surgery or trauma
• Pain associated with cancer or cancer treatment
• Neurogenic pain (pain caused by nerve damage)
• Psychogenic pain (pain that isn't caused by
disease, injury, or nerve damage)
Other Elements of Pain
Chronic pain involves more than just physical suffering. It is often stressful, exhausting, and debilitating for those who experience it. It is not uncommon for issues like trouble sleeping, depression, anxiety, and substance abuse to accompany chronic pain.
Many of these elements are interrelated. Inability to sleep due to pain can cause depression. Depression and pain can contribute to overuse of legal or illegal substances, and so on.
Frequent pain takes its toll on sufferers. They may be unable to enjoy some of their favorite activities and often become isolated from friends and family. Pain can affect memory and concentration, work performance, and self-esteem.
People with chronic pain are three times more likely to develop depression or anxiety. Some pain sufferers also deal with issues from post-traumatic stress disorder (PTSD). These patients are at increased risk for an opioid use disorder – a physical and psychological dependence on opioid medications.
Managing Pain and the Opioid Epidemic
With so many Americans experiencing chronic pain, the demand for effective pain relief is high. Medications called opioids have been used for decades to treat acute pain – such as pain after surgery. Eventually, opioids became accepted for treatment of long-term pain as well.
Opioids are a category of drugs that work to relieve pain by hindering receptors in your brain cells. Opioids can be made from poppy plants, as morphine is – or they can be created in a laboratory, like fentanyl is. In addition to blocking pain, opioids can increase feelings of pleasure for some (but not all) who use them. These qualities make opioids ideal for pain relief but also make them potentially dangerous. The euphoria some patients experience from these drugs can lead them to take higher or more frequent doses. High doses can slow breathing and increase heart rate, sometimes resulting in death.
According to the American Academy of Family Physicians, "There is a corresponding growth in the number of opioids prescribed in the U.S. and the overdose from those drugs." The number of deaths from opioid overdose has steadily risen in recent years, so much so that opioid abuse is currently considered a public health emergency.
While some patients do misuse and become addicted to their prescription pain medications, others rely on it safely as an appropriate treatment for their pain. In navigating the delicate problems of pain management and opioid abuse, both the public and providers should take care to avoid stigmatizing users of opioid medications.
Alternatives for Treating Chronic Pain
Treatment for chronic pain often aims to help patients achieve maximum functionality so that they can go about their daily lives. Pain management specialists can help patients determine the most appropriate treatment for their individual issues and lifestyles.
There is a range of possible care plans and treatment methods that can help patients manage pain alongside or without narcotic medications. These include:
Chiropractic care: a hands-on, drug-free approach to health care that includes comprehensive patient examination, diagnosis, and treatment. Chiropractors are trained in diagnosing musculoskeletal (muscle and bone) illness and can also recommend stretches and exercises to help manage your condition.
Physical therapy: restores maximum movement and functional ability using exercises and physical agents to build strength, control pain, and promote healing. Physical therapy uses evidence-based physical therapy techniques and technologies for improving and enhancing physical abilities.
Cognitive behavioral therapy (CBT): teaches patients techniques to help change the response to pain. By working to identify and modify negative thoughts and behaviors, CBT helps patients improve their skills for coping with pain.
Relaxation and meditation techniques: help patients change their perception of pain and interrupt the body's stress response to pain, which often worsens it. These methods aim to work in similar ways to CBT and often are part of that therapy.
Massage: may alleviate pain by relaxing muscles and decreasing stress response. A massage therapist works with the patient to identify specific areas and types of pain to determine the appropriate amount of pressure for the massage.
Acupuncture: stimulates specific points on the body, usually through insertion of small needles into the skin. Some practitioners believe this stimulation of nerves, muscles, and connective tissue can encourage the body's natural pain relief.
Injections: can be used for a range of conditions, including back pain, joint pain, and migraines. Various types of injections aid in pain management, including steroids to reduce infl ammation and different types of nerve-blocking compounds.

To learn more about KRMC, visit azkrmc.com
Sponsored content information provided by Kingman Regional Medical Center
SUBMIT FEEDBACK
Click Below to:
More like this story