Council ready to move Kingman forward

Originally Published: December 5, 2018 7:29 p.m.
KINGMAN – The elected officials of Kingman have shifted slightly in their roles with Mayor Jen Miles vacating her previous position as vice mayor, a duty now left to Travis Lingenfelter following a 4-3 vote at Tuesday's Council meeting.
Lingenfelter was nominated for vice mayor by Councilwoman Jamie Scott Stehly, her motion seconded by Councilman David Wayt. Also nominated for the position was Councilwoman Deana Nelson, a motion which came from Councilman Ken Watkins and seconded by Councilwoman SueAnn Mello Keener.
Lingenfelter addressed the auditorium following his election to vice mayor, saying that it's been a "long and drawn-out year" in regards to finding solutions for pavement preservation and funding for parks, public safety and transportation projects. His statement was in reference to Prop 413, the Responsible Sales and Use Tax Act, passed by voters Nov. 6. He noted there were "strong opinions" on both sides of the issue, but that now is the time to move forward.
"The past negativity must be left in the past, and tonight we must turn a page to a new chapter of community collaboration," he said. "We must work together to solve Kingman's longstanding infrastructure deficit, while doing what we can do increase livability for residents, tourists and visitors."
He also noted water and downtown revitalization before closing by saying that he looks forward to tackling those issues alongside the citizens of Kingman. Citizens should note that there is a recall effort for now-Vice Mayor Travis Lingenfelter by Kingman Citizens for Honesty, Accountability and Transparency.
The City's new councilmembers also addressed those in attendance. Councilman Ken Watkins expressed his thanks to those who supported him, specifically mentioning his wife and family.
"But then comes the citizens of Kingman," he said. "I am thankful to be here and (to) be able to serve them. I want to listen, and I think that's most important, that we are here to listen to you and respect your views."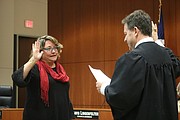 Councilwoman Deana Nelson said she feels both excited and terrified, and that she looks "forward to moving Kingman forward."
SueAnn Mello Keener, elected to Council in the primary election, said she is honored to serve and looks forward to working with Council to make good decisions for the City of Kingman.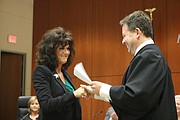 Mayor Jen Miles made a few comments as well.
"I am extremely grateful to serve as Kingman's mayor," Miles said. "It is a high honor, and I will work diligently to carry out the responsibilities mindfully. As I continue to serve the citizens of Kingman, I pledge to work with all councilmembers and the community to ensure Kingman remains a city that is safe, livable and prosperous."
However, she did note there are struggles ahead with the passage of Prop 413.
"We must all recognize that the passage of Proposition 413 results in a significant financial setback, and will strain the resources required to grow and maintain the City," she said. "And as required by 413, the City will now contract the budget and address the subsequent challenges of infrastructure and priorities."
But the mayor said she believes the management team, the citizens and Council can make the best of the situation.
"We will work together to build the City's financial base so that Kingman remains at the crossroads of a rich history and a bright future," she said. "As mayor, I pledge to facilitate a forum for honest dialogue for the councilmembers and with the public."

Along with noting her commitment to the issue of water, the interchange projects of Kingman Crossing and Rancho Santa Fe, and for downtown revitalization, Miles expressed her appreciation for the "blueprints of Kingman's future." She said those are the master plans for the City, the airport and industrial park, and parks.
"Together, these constitute a vision and a foundation for the future, and they will guide Kingman's growth and development for all target sectors in ways that promote economic progress and improved quality of life," Miles said.
More like this story
SUBMIT FEEDBACK
Click Below to: