Prep Basketball: Vols bounce back with blowout of Flagstaff

Originally Published: December 15, 2018 3:32 p.m.
KINGMAN – It was unfamiliar territory for Cain Atkinson. The Lee Williams High School boys basketball coach is usually the one showing emotion, but earlier this week his team was upset after a tough loss to Coconino.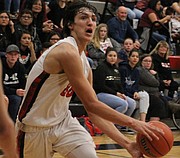 That setback lit a fire and propelled the Vols to a 71-43 blowout of Flagstaff Friday night.
"Usually all the emotions are coming from me," Atkinson said. "After that Coconino game, seeing everyone upset, I could tell it bothered them and it really hurt them. I knew we were going to play well tonight."
Lee Williams lived up to Atkinson's expectations – and more. The Vols led 22-2 after the first quarter and pushed that advantage to 59-30 after the third.
It was a team effort, too, as nine of the 11 athletes on the roster scored at least a point.
"It motivated us, definitely," Vols senior Aaron Santo said of the Coconino loss. "We hate losing, so we came back even harder. We wanted to win."
Santos played a big role in Lee Williams' victory as he scored 17 of his game-high 25 points in the second half.
The senior even went on his own 8-0 run late in the third quarter to give the Vols a 54-27 advantage with 1:14 remaining.
"Aaron has been huge for us all year," Atkinson said. "He's came a long way, especially recovering from his knee injury a couple of years ago. He's put the time in. So I'm happy that he's coming out and playing as well as he is right now."
Kade Juelfs and AJ Herrera joined in on the fun with 10 points each, while Diego Narvarte finished with eight points.
The only blemish on a great night was the Eagles (1-5, 1-2 4A Grand Canyon Region) outscoring Lee Williams 18-8 in the second quarter to inch within 10 points, 30-20, at halftime.
The Vols quickly put any comeback hopes to rest in the third and Atkinson talked about how they did it.
"We just had to get back to our game plan in the first half – playing with that energy, making sure we're communicating and playing together," he said. "Those five guys that started both halves definitely came out, executed and played very well."
Lee Williams (4-1, 2-1 4A Grand Canyon Region) looks to keep it rolling at 7 p.m. Monday when it hosts Dysart (4-3, 1-0 4A Black Canyon Region).
"This (win) is definitely a confidence-booster, especially with how well we played," Atkinson said. "I felt like we executed fairly well."
More like this story
SUBMIT FEEDBACK
Click Below to:
This Week's Circulars
To view money-saving ads
For as little as $3.49*