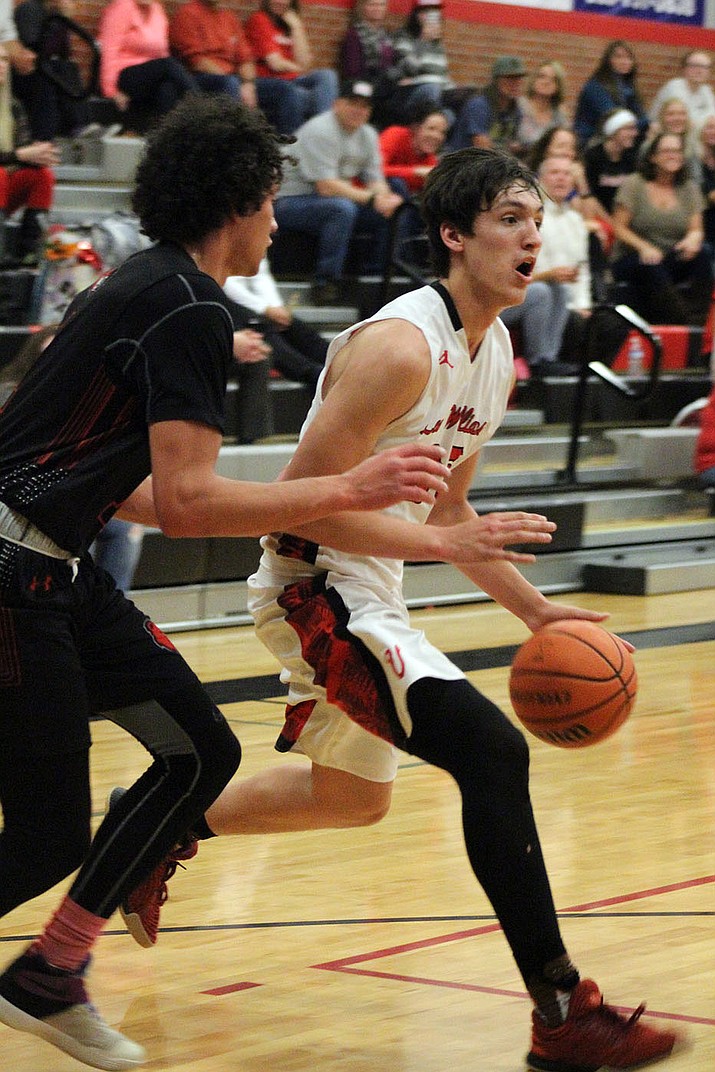 Photo by Beau Bearden.
Originally Published: February 1, 2018 6:16 a.m.
KINGMAN – January hasn't been kind to the Lee Williams High School boys basketball team. The Volunteers started the month with a two-point win at Mohave, but have since gone winless and the unlucky streak continued Wednesday night in a 45-43 setback to No. 40 ranked Bradshaw Mountain.
"We have to continue to get better – that's pretty much all it is," said Lee Williams head coach Cain Atkinson. "We're struggling right now and just have to get better."
The 29th-ranked Vols are definitely in a difficult spot, but they did have an opportunity to score the game-tying or game-winning basket. Unfortunately, the final possession didn't go as planned.
"We were just scrambling because I didn't have any timeouts at that time," Atkinson said. "We needed to get a shot up. That wasn't the shot and it wasn't the kid who I wanted to shoot it at the end."
In all of the chaos, Kael Juelfs ended up with the ball and attempted a desperation 3-pointer. It was unsuccessful and Lee Williams saw its losing-streak reach nine games.
Making matters worse is the fact the Vols just dropped a two-point overtime loss to Mohave Tuesday night at home. While fatigue could have been a factor, it was far from Atkinson's mind.
"There's no excuse – they have to be ready to play," he said. "I feel like they did play hard, but there's no excuse of playing a back-to-back. Even if it was a close game that it was (Tuesday) night in overtime. There's no excuse."
For most of the contest, Lee Williams did look ready to play – especially after outscoring the Bears by a 13-4 margin in the second quarter to take a seven-point, 27-20, into halftime.
But Bradshaw Mountain hung around and made the Vols pay for it. The Bears trailed by 11 points, 38-27, with two minutes to go in the third quarter, but then their 11-0 run tied the game, 38-38, at the 5:08 mark of the fourth quarter.
Bradshaw Mountain had clearly shifted the momentum in its favor, but Lee Williams' Marco Narvarte kept his team in it. The senior scored all five of the Vols' fourth-quarter points to keep them within striking distance.
It was surprising considering Narvarte's recovery is moving slowly after suffering an ankle injury Jan. 12 against Flagstaff.
"He is a little bit better," Atkinson said. "He's still a little bit hesitant – not the type of scorer that I want him to be. But the thing about Marco is he works hard."
Narvarte couldn't do it all though and the Bears (2-15, 1-11 4A Grand Canyon Region) never let Lee Williams get any closer than 44-43 with 1:36 remaining in the game.
Narvarte and AJ Herrera led the Vols with 13 points each, while Tony Luna scored five and Diego Narvarte chipped in four points.
Lee Williams (5-11, 2-8) travels to No. 13 ranked Mingus (12-5, 8-3) Friday for a 7 p.m. contest.