Prep Basketball: Lady Tigers wilt down the stretch against Parker, 40-34

Originally Published: February 2, 2018 6:48 a.m.
KINGMAN – The stage was set Thursday night for a 2A West Region clash between first-place Parker and second-place Kingman Academy. The two girls basketball teams went at it for 32 minutes and it appeared the Lady Tigers could pull off the upset, but just came up short in a 40-34 setback to the No. 22 ranked Lady Broncs.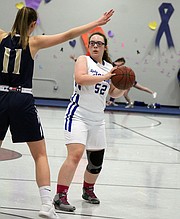 "Their effort was there, but the execution lost it down the stretch," said Academy head coach Garth Steed. "We didn't get into the offense, there were too many turnovers and bad passes. We didn't execute."
The miscues definitely cost the 30th-ranked Lady Tigers as they were in a back-and-forth until midway through the fourth quarter. That's when Parker took the upper hand – using a 5-0 run to turn a 31-31 tie into a 36-31 advantage with 4:49 remaining in the game.
While the Academy continued to battle, the offense mustered just three points down the stretch in a loss that clinched the region title for Parker (12-5, 9-0).
"They ramped up the pressure in the second half and we just didn't deal with it," Steed said. "That's all there is to it. I can't pin it on one or two, it was everybody."
While the second half wasn't one to remember, the Academy (8-7, 7-2) did show positive signs to start the game. The Lady Tigers pounced on the Broncs early and took a 9-4 advantage after the first quarter. The Academy kept the intensity up thanks in part to the play of reserve Emily McCracken, who scored eight of her team-high 12 points in the first half.
"Emily had a really good game," Steed said. "(But) she was 5-for-12 shooting and that's another thing that killed us again. When we did get shots, we didn't make them. We probably shot close to 25-30 percent for the game. You just can't do that."
None of the other Lady Tigers finished in double figures as Kiersten Edwards scored eight, followed by Chloe Elliott with five and Canya Thompson with three points. Making matters worse was the fact the Academy lost starter Kassidy Campbell to an injury that required help off the court.
"It hurt losing Kassidy there," Steed said. "They're not sure about the injury, but it's not good. They think it might be an ACL, but they won't know that until the end of the week."
The Lady Tigers have to finish strong though, as they welcome No. 47 ranked Antelope Union (1-11, 1-6) to town Monday for a 5:30 p.m. regular-season finale.
"We've been ramping up towards the end of the season," Steed said. "We just have to keep going. We can't level off and we can't drop back. We have keep pushing and they will."
More like this story
SUBMIT FEEDBACK
Click Below to:
This Week's Circulars
To view money-saving ads
For as little as $3.49*