Prep Basketball: Tigers falter late in 65-57 loss to Parker

Originally Published: February 2, 2018 6:55 a.m.
KINGMAN – The fourth quarter wasn't kind to the Kingman Academy High School boys basketball team Thursday night. Not only did the Tigers watch No. 40-ranked Parker take control of the momentum, but they also had Tyler Chinyere foul out and it proved costly in a 65-57 loss.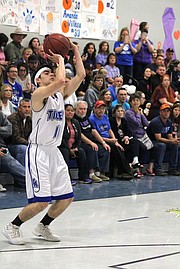 "Just like many people in our program, Tyler is a key cog to what we want to do," said Academy head coach William McDavid. "Him (fouling) out hurt us a lot. Losing anyone on our team is going to be a lot – both physically, not having a body out there, and emotionally because everything gets riled up. Unfortunately, we were on the wrong side of that run."
The run McDavid spoke of was the Broncs' 7-0 spurt they put together as soon as Chinyere exited the game with 5:22 remaining in the game. That run turned the Academy's six-point lead (51-45) into a one-point deficit (52-51) with 4:11 to play.
The possibility of Parker taking the lead seemed to be an irrational thought at the 6:03 mark of the third quarter as the Tigers held a commanding 40-25 advantage. However, the Broncs proved they weren't going down without a fight and inched within six points, 48-42, at the end of the third quarter.
Academy (8-9, 6-3 2A West Region) needed an answer in the final quarter, but couldn't find it and its four-game winning streak came to an end at the hands of Parker (8-9, 5-4 2A West Region).
"I'm taking this one on my shoulders," McDavid said. "My game plan was incorrect. Instead of changing that game plan, I wanted to stick with it – thought it would work out. The boys know that, bless their hearts, they stood true to what I wanted to do. We recognize that it was wrong and we're going to fix it."
There was a bright spot in the loss, however, as senior Bradley Hecker continued to be an instrumental pat of the offense with a team-high 16 points.
"There always has to be a great basketball story every year and Bradley is one of them," McDavid said. "A four-year player. The kid works his butt off. I could not have a harder worker than Bradley Hecker. The greatest thing is not only is his production helping him, it's helping other players as well. They're recognizing that maybe they're not the star right now, maybe they're not the production player right now, but they can grow into something like him."
Stevie Wusstig could very well be one of those players as the junior finished with 12 points, followed by Chinyere with 10 and Nate Perea with nine points.
The 33rd-ranked Tigers close out the regular season at 7 p.m. Monday as they host No. 49 ranked Antelope Union (2-11, 0-7). The Academy looks in good shape to make the play-in game of the state tournament, but McDavid knows it's not a guarantee.
"As far as the standings go, we have a great region where any given night anyone can win," he said. "Having three losses does hurt most certainly, but we believe in ourselves enough to have a great game against Antelope."
More like this story
SUBMIT FEEDBACK
Click Below to: