State house votes to expel Yuma legislator for sexual harassment
Howard Fischer, Capitol Media Services
Originally Published: February 2, 2018 5:54 a.m.
Document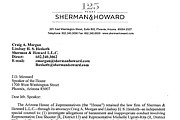 PHOENIX – Concluding his actions were just too wrong to excuse, the state House voted Thursday to expel Rep. Don Shooter.
The 56-3 vote occurred despite a last-minute plea by the Yuma Republican to instead punish him with a censure. In fact, until this morning even House Speaker J.D. Mesnard said the lesser penalty was appropriate, given that much of the conduct an investigator concluded was sexual harassment had occurred before 2017, when he was in the state Senate.
But Mesnard changed his mind after Shooter sent a letter to his colleagues asking that they delay any action while they consider whether there also are credible charges against Rep. Michelle Ugenti-Rita. The Scottsdale Republican was the first to level harassment charges against Shooter.
Shooter noted the investigator's report mentions allegations which include "unsolicited, sexually explicit communications,'' being sent to someone who is believed to be a female former staffer. And investigator Craig Morton described these as "egregious and potentially unlawful acts.''
But Morgan said that Brian Townsend, a former House staffer who was dating Ugenti-Rita, accepted sole responsibility for sending out what are believed to be naked photos.
Rep. Regina Cobb, R-Kingman, said it was difficult to vote in favor of Shooter's expulsion, as she's supported him in the past. He's sponsored some great legislation such as funding for the Joint Technical Education Development (JTED) and programs for the developmentally disabled. He's also Cobb's personal friend.
"He's inappropriate and everybody knows he's inappropriate and they kind of accepted it," Cobb told the Daily Miner after the vote. "I got the report two days ago, and as I was going through the report, I became sad and there were issues in there I didn't know about. Also, he didn't seem remorseful over it. He's just not there yet."
Cobb said she spoke to Shooter about accepting censorship prior to the hearing, but he "threw somebody under the bus," she said, and didn't respect her as a friend and colleague.
At the same time, Morgan said Ugenti-Rita "unequivocally denied any knowledge of, or involvement in, the conduct.'' And Morgan, who interviewed her, said the lawmaker was "visibly distraught'' and "expressed genuine surprise and shock.''
Morgan also said that the alleged victim, after being informed that Ugenti-Rita denied involvement in the incident, said that is possible and that she "hoped'' that was the case.
While Shooter was hoping the letter would lead to at least a delay in action against him, it had the opposite effect on Mesnard.
More like this story
SUBMIT FEEDBACK
Click Below to: