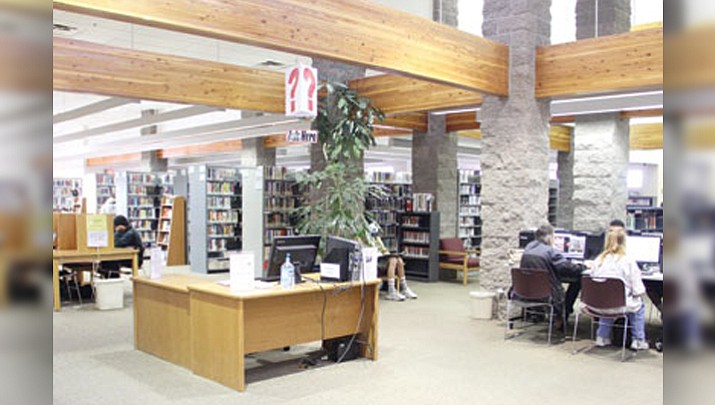 Originally Published: February 5, 2018 5:25 p.m.
KINGMAN – There's no guarantee the Kingman Library will be expanded with new administrative offices, but a request for qualifications from a licensed contractor was unanimously approved Monday by Mohave County Board of Supervisors.
The county will seek a contractor to take out the modular trailers that house administrative offices for the Library District and to add about 11,500 square feet to the existing library branch at 3269 Burbank St.
Total estimated cost for the project is $4.3 million, with the remaining $2 million in the Library District's fund to be used for operating capital and contingency.
"The modular trailers are falling apart," Chairman Gary Watson said in bringing the item before the board. "It's time to get something done."
Supervisor Hildy Angius noted the vote is simply to authorize county staff to develop and solicit the request for qualifications from a design-build contractor.
"It's just for that. We'll come back and I'm sure we'll be talking at length about it," she said.
Kingman's library branch was built in 1991 with 15,000 square feet for library services and staff. About 15 employees in administration, facilities, technical services and support are housed in a 5,600-square-foot modular trailer behind the library.
"It does need a lot of work," said Kathy Pennell, director of Mohave County Library District. "It needs a new roof, so we don't want to spend that money if something's coming down the road fairly soon. On the other hand, we can't have things coming through the roof."
Pennell said the library also needs more space for computers, as well as space for receiving, sorting and cataloguing new materials. Kingman's library is half the size of Bullhead City and Lake Havasu City libraries.
A 2014 assessment report identified the need for additional space to support public services provided by the Kingman Library. There would be no increase to library staff.
In other action at Monday's regular board meeting:
The board voted 5-0 on three separate items pertaining to rezoning a 6-acre parcel in Golden Valley, west of Interstate 40 and south of Shinarump Drive, to allow for a propane storage and distribution tank. Supervisors amended the Mohave County General Plan for the McConnico area, designating land use from suburban development area to heavy industrial. The rezone was requested by William Barnes of Kingman, representing JoAnn Perez Nungaray of Modesto, California. There were no comments during the public hearing.
The board voted 4-1 (Supervisor Buster Johnson opposed) to acknowledge receipt of a petition to include a 3-mile section of Grossman Road from Donald Drive to Bruce Drive in the Kingman Airport area in the Mohave County tertiary road maintenance system. Supervisor Angius emphasized that the vote is only to acknowledge receipt of the petition and to refer it to Public Works. A county engineer will inspect the roadway and make sure it meets all the requirements for county maintenance, including proper rights of way for minimum road width, which is 24 feet for travel lanes and 2 feet on each side for shoulders.
The board voted 5-0 to provide an official press release on Mohave County's efforts to monitor the Hualapai Basin Aquifer. Chairman Watson outlined highlights of the press release, including a plan to recharge the aquifer with 4,000 acre-feet of stormwater each year; spending $463,000 for updated reports from the U.S. Geological Survey on groundwater flow and supply; working with the Legislature on determining the amount of water withdrawn from the aquifer over the next three years; and working with the Governor's Water Conservation process to support rural groundwater protection with a bill in the 2018 Legislature. Supervisor Jean Bishop said the press release is "very timely" and contains important information for people to know.