Collisions with cows – there are no winners
Originally Published: February 7, 2018 6 a.m.
A dust-covered cowboy sitting atop his mighty steed and herding livestock on month-long cattle drives was once the quintessential symbol of the American frontier.
Gone from the Southwest are those cattle drives where cowboys and cowgirls herded thousands of "four-legged steaks on hooves" hundreds of miles to the slaughterhouses.
Nowadays, cattle drives are accomplished by ranch hands rounding up the free-range cattle and then transporting them to meat processing plants by truck.
The majority of cattle in our area are free range, and many ranchers lease public lands from the Bureau of Land Management (BLM) as a low-cost method of having their cattle feed on natural vegetation instead of having to feed expensive hay to them. In the 16 Western states, public-land grazing is 80 percent cheaper than grazing on private land.
Where do those grazing fees go? Half the dollars return to benefit stockmen by funding cattle guards across roads, fencing, corrals, stock ponds and other improvements.
There are 81 cattle grazing permits on about 2.7 million acres of public lands the Kingman Field Office of BLM manages in Mohave County. BLM currently receives $1.87 per animal unit (one cow and her calf, one horse, or five sheep or goats) each month from the 50 ranchers who take advantage of the grazing permits.
As part of their grazing permits with BLM, ranchers are required to repair the existing fences. According to various ranchers, BLM is tasked with installing new fencing, cattle guards, corrals, stock ponds and other improvements.
The problem with the scenario of cattle grazing is many of the cows escape from the public lands because people forget to close the gates along the fences that separate public lands from private property. Because of this, cows are again on residents' minds since more cattle are aimlessly wandering through residential areas of the county, especially south of Highway 68 in Golden Valley. In the last month, rancher Travis Holyoak had at least five cows die due to vehicle-cow accidents.
Another rancher, Emmett Sturgell and his wife Lori – who own Cedar Ranch along a six-mile stretch of Stockton Hill Road north of Kingman – have also lost some cattle to vehicle-cow accidents. The Sturgells have taken steps to help alleviate vehicle-cow accidents by placing reflective ear tags on their cattle. When vehicle lights shine on the reflective tags this will hopefully make drivers aware and keep them from striking a cow.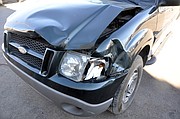 No one has been seriously injured in the vehicle-cow accidents in Mohave County in recent years, but it is possible someone could be killed in these types.
If a cow is killed in an open-range area, the driver of the vehicle is liable to the rancher. The current value of a cow is between $800 and $1,500, depending upon the type of cow, its weight and if it is a female.
Mohave County residents continue to be upset about stray cows wandering through their neighborhoods causing destruction by munching on their plants, other vegetation and low-hanging trees.
Many believe Arizona's open range laws are archaic and should be modified or completely done away with to be left in the proverbial past just like Wild West gunfighters. Many believe the times have changed with communities sprouting up just about everywhere, and there isn't room for cattle to coexist in people's front yards.
Property owners have stressed their frustration about the damage cows are causing and wonder if they have any recourse to the wandering-cow situation. Depending upon where the damage occurs determines if they can be reimbursed or not.
Since most of Arizona is designated as open range, the property owner doesn't have much chance of recouping their losses for damage caused by stray cattle if that damage was not in a fenced in area.
However, if a wayward cow breaks through a fence and causes damage, the property owner does have legal recourse if the fence was constructed in accordance with A.R.S. 3-1426. The A.R.S. stipulates in part, "… a lawful fence is constructed and maintained with good and substantial posts firmly placed in the ground at intervals of not more than 30 feet, upon which posts are and fastened at least four barbed wires of usual type … with the top wire being 50 inches above the ground and the other wires at intervals below the top wire of 12, 22, and 36 inches. However, all fences constructed of other than the barbed wire method equally as strong that will turn away the livestock shall be deemed a lawful fence …"
A.R.S. 3-1428 stipulates that if the damage was in a fenced area and is less than $200, the property owner can seek restitution from the justice of the peace in which the land is located, and if the damage is more than $200 they can seek restitution through the superior court system.
The best advice is not to immediately run down to the court to file a lawsuit against the livestock owner if residents know the rancher's name or they recognize the brand on the livestock. Contact the Kingman BLM office at 928-718-3700 to determine who actually owns the cattle, get the telephone number of the rancher from BLM, contact the rancher and attempt to "iron out" a fair and equitable settlement.
The biggest thing to take into consideration is that there are residents who currently reside in an open-range area. If they don't want cows on their property, they must ensure their properties are as cow-proof as possible in order keep cattle away.
More like this story
SUBMIT FEEDBACK
Click Below to: